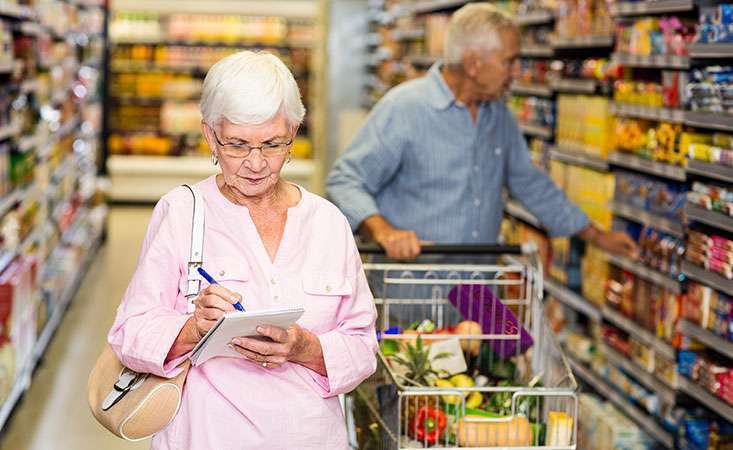 Editor's note: In light of COVID-19, today's Friday Fix is about how to shop smart and eat well while supermarkets are restocking your favorite foods.
Wondering if it's possible to eat healthy when your family's food favorites are sold out until your grocery store restocks?
The answer is yes, said Friday Fix guest contributor Maria Petzel, senior clinical dietitian for the Pancreas Surgery Program at MD Anderson Cancer Center and an emeritus member of the Pancreatic Cancer Action Network's (PanCAN) Scientific & Medical Advisory Board.
If you approach grocery shopping with an open mind, "Now is a great time to buy something new and different that you might otherwise overlook," Petzel said.
"There are websites that will give you several recipes centered around just one ingredient or that offer various ways to cook that one thing."
Petzel shared firsthand experience related to trying something new, based on availability.
"I went to the grocery store recently to pick up my usual go-to basics, and they were out," she said. "No potatoes, no onions, no celery or carrots.
"What was in stock was the most beautiful, freshest bok choy [Asian cabbage] I had ever seen. I had only cooked bok choy a few times before, but I bought it because it was what they had. At home, I roasted it with olive oil, salt and pepper – which you can do with many vegetables – and it was delicious."
Petzel encourages her pancreatic cancer patients to follow a diet full of vegetables, fruits, whole grains, beans, seeds and nuts, and limited in red meat, preserved meat and processed foods.
These are the kinds of foods to beeline for when grocery shopping at any time.
And as you hunker down over the coming weeks, keep in mind the following recommended recipes, smart shopping and food storage solutions from Petzel, designed to inspire healthy eating after every trip to the store:
Go for canned or dried beans – they are excellent sources of protein and fiber. So are nuts and seeds. They all keep for a long time, and they are versatile enough to add to many different dishes, from soup to salad to pasta. Petzel noted that some pancreatic cancer patients may not tolerate large amounts of nuts, and to consult with their dietitian as needed.
Hearty Vegetable and Lentil Soup
Speaking of fiber, select whole grains, brown rice and whole wheat pasta. On Petzel's recent grocery trip, the only pasta left was whole wheat. She was happy to snag it – a healthier option. Barley, quinoa and high-fiber breads are also good choices.
Lentil Walnut Bolognese with Spaghetti
The freezer is your friend. "Unlike with a natural disaster (think hurricane or earthquake), we don't need to worry right now about food spoilage due to power loss," Petzel said.
You may find that your grocer's freezer has more produce than the fresh section of the store, and bonus – frozen fruits and veggies are jam-packed with nutrients. You can also transfer fresh fruits, veggies and meat-based proteins to your freezer if they risk going bad in your fridge.
Peeled and sliced frozen bananas, mangos and pitted avocado are healthy smoothie ingredients for a satisfying breakfast or afternoon snack.
Frozen, pre-chopped veggies are convenient additions to soups and stir fry.
Lean ground beef, ground turkey, shrimp and fish are all perfect protein additions, as are veggie patties and other meat alternatives. All can be stored in the freezer. Also, Petzel added, frozen fish is especially nutritious, as it's frozen at the peak of freshness.
Another item (and a great source of protein) you can freeze that you might not have realized: eggs. If they're nearing the end of their shelf life (which is typically long), ditch the yolk and freeze the whites (the egg whites scramble well once thawed). You can also freeze milk, yogurt and cottage cheese.
Canned veggies and fruits are fine (if veggies are low-salt and fruits contain no added sugar). Check the ingredient list to make sure fruit is canned in juice or water and not syrup. If you can only find fruit canned in syrup, just rinse before serving.
Consider shelf-stable (can be stored outside the fridge until opened) milk and/or cow's milk alternatives. Once open, soy, rice, hemp and nut milks have a longer shelf life than most cow's milk. For recipes that call for milk, nonfat dry milk powder is a shelf-stable substitute.
Stock up on staple spices. "While we're social distancing, we're cooking more at home, so it's good to have basic dried spices like garlic powder, thyme, oregano, dill, chili flakes and paprika on hand," Petzel said.
Review produce storage tips. You want your purchases to last as long as possible – and some fruits and veggies are happier being stored together than others.
Handle food safely. Always practice safe food handling, cooking and storage to prevent foodborne illness. During a pandemic, and especially as it relates to pancreatic cancer patients whose immune system may be compromised, take extra precautions.
Wash hands with hot water and soap for at least 20 seconds, keep surfaces sanitized, cook food to the right temperature and refrigerate leftovers promptly.