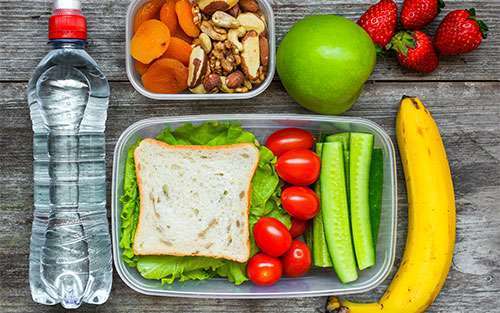 The question of what to make for lunch can be puzzling. But never fear – healthy lunches are here, easy to make and tasty too!
Here are five ideas – one for every day of the work or school week – for quick, healthy and delicious lunches:
Keep in mind that finger foods like hummus, carrots and pita are easy to pack, and foods on a stick (think chicken skewers) never disappoint. If you're packing a lunch for a loved one, consider tossing in non-edible surprise treats – love notes, joke cards, etc.
Build a veggie sandwich and see how creative you can be. Think beyond tomatoes, cucumbers and lettuce – try arugula, roasted beets or peppers. Or add sliced radishes for crunch and color.
Add a few healthy chips, crumbled crackers or raw/oven-roasted nuts and seeds to bring a bit of crunch and texture to your salad. Parmesan crisps work, too, and they are delicious and simple to make.
Dress up last night's dinner leftovers by sprinkling a favorite cheese on top (feta or goat are good options).
Think beyond basic tuna salad or egg salad – consider smoked salmon salad or sardine salad. (Yes, sardines! They're healthy and packed with protein and omega-3 fatty acids, calcium, iron and potassium.) Dab the mixture on whole wheat or multigrain bread with a handful of leafy greens, or skip the bread and add it to spring greens with a touch of your favorite healthy salad dressing.
Come back each week for more of the Friday Fix.