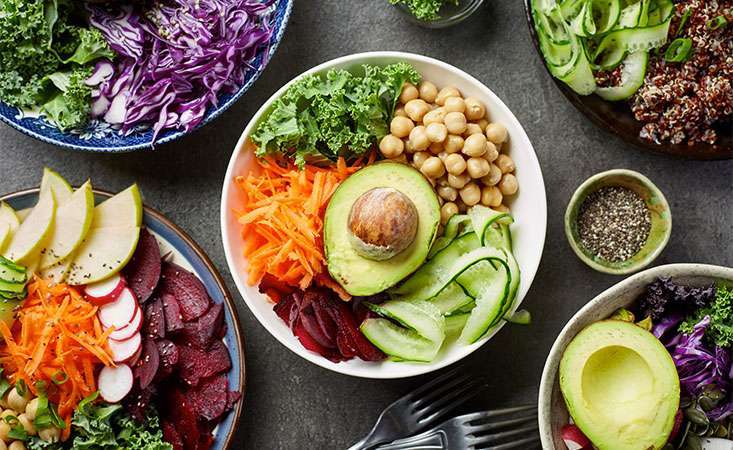 Vegan: those who don't eat any animal products, including fish, dairy or eggs.
Vegetarian: those who avoid meat but may eat fish or foods that come from animals, such as milk or eggs.
Plant-based Diet: those whose meals are mostly vegetables, fruits, grains, beans, nuts and seeds.
According to the American Institute for Cancer Research (AICR), a plant-based diet can lower risk for many cancers. To implement a plant-based diet, the AICR advises filling at least two-thirds of your plate with plant foods and one-third or less with animal foods like fish, poultry, meat or dairy products.
We asked Friday Fix guest contributor Maria Petzel, senior clinical dietitian for the Pancreas Surgery Program at MD Anderson Cancer Center and an emeritus member of the Pancreatic Cancer Action Network's (PanCAN) Scientific & Medical Advisory Board, to weigh in on whether a vegetarian, vegan or plant-based diet reduces cancer risk, as well as whether pancreatic cancer patients should consider implementing these diets.
Here's what she said:
There's an overwhelming body of evidence that following a plant-based diet reduces cancer risk.
There is strong evidence that a diet high in red meat (beef, pork, lamb), processed meats and charred or smoked meats (including poultry) increases cancer risk.
The evidence is less clear that a vegetarian or vegan diet further reduces risk of cancer over a good plant-based diet and maintaining a healthy weight.
One study found that a vegetarian diet that includes fish (i.e., pescatarian) may have more health benefits than a standard vegetarian diet.
A well-planned vegetarian diet has not been shown to have any bad effects on health and can be more environmentally friendly.
A poorly planned vegetarian – and especially vegan – diet can be deficient in essential nutrients such as vitamins B12, B6 and D, as well as calcium, iron and zinc.
"Vegetarian and vegan diets do not inherently mean they are healthy," Petzel said.
Some foods in those categories may contain large amounts of refined sugar and/or be low in fiber (bread, rice, pasta). Other foods may be high in sodium or less desirable fats (butter, vegetable shortening, corn oil).
"It's really important that pancreatic cancer patients discuss their diet with their healthcare team, especially if they are considering going vegetarian or vegan, to make sure they're getting the proper amount of nutrients and that whole foods are emphasized," Petzel said.
"An oncology dietitian can help navigate both the benefits and challenges of these diets."
Want to dabble in a vegan or vegetarian diet? Consider these recipes from PanCAN, AICR and other sources:
If you're a pancreatic cancer patient and have questions about healthy eating, or to get a copy of our Diet and Nutrition Booklet, please call
Patient Services
at 877-272-6226.
Pancreatic cancer patients and caregivers can also access comprehensive disease information, reviewed and approved by renowned leaders in the field, including Petzel, by completing our contact form.