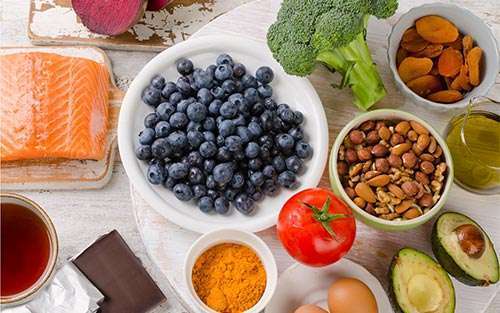 Welcome to Friday Fix: Your Weekly Nutrition Supplement! Every Friday, we bring you a new hot topic related to diet and nutrition.
It seems like every day, another exotic food is touted as the next thing in healthy eating. But luckily, the growing list of "superfoods"—nutrient-dense foods that pack powerful health benefits—includes many common foods that you can easily incorporate into your daily diet today.
"Although the word 'superfoods' is a marketing term and isn't used by scientists, many foods described as 'superfoods' do have tremendous health benefits. Foods like blueberries and salmon are inexpensive, delicious and found in every grocery store," said Maria Petzel, senior clinical dietitian for the Pancreas Surgery Program at MD Anderson Cancer Center and a member of the Scientific and Medical Advisory Board for the Pancreatic Cancer Action Network.
Here are six superfoods to add to your shopping list this week, plus a quick overview of the healthy boost they provide.
Blueberries
This tiny berry tops nearly every superfood list, and for good reason. A large body of research shows that antioxidant-rich blueberries deliver major health benefits, including reducing joint and muscle pain, decreasing inflammation after exercise, and even curbing stress. Studies also show that blueberries may reduce the risk of heart attack in women.
How to eat them: Buy fresh or frozen. Snack on them, add them to your morning smoothie, or for a special treat, try this recipe for Banana Blueberry Muffins.
Turmeric
If you've traveled to India, you're likely familiar with this bright yellow root, which has been used for more than 4,000 years for various health conditions. A relative of ginger, turmeric is a powerful antioxidant that may decrease inflammation and stop platelets from forming blood clots. Although the jury is still out on turmeric's cancer-fighting properties, early research points to the root's antioxidant properties, which can help protect cells from damage.
How to eat it: Sprinkle turmeric into your coffee, or add a teaspoon of this powder to recipes like Asparagus Frittata and Chicken with Quinoa.
Salmon
This fish is rich in omega-3 fatty acids, which support heart and brain health. One serving of salmon is packed with vitamin B-12, niacin and B-6—vitamins essential for keeping us energized and our minds healthy. Studies also suggest that eating salmon at least twice per week in mid- to late life may lower the risk of coronary heart disease in women.
How to eat it: Use wild-caught if possible, and farmed only if it is farmed sustainably. Poach or broil your salmon to limit the amount of fat needed for cooking. For a refreshing twist on this common fish, try our Salmon Burger with Bok Choy, Ginger and Lemongrass recipe.  
Dark chocolate
The flavonoids in dark chocolate lower LDL ("bad") cholesterol, stabilize blood sugar and improve your blood flow. And you probably already know that eating chocolate can boost your mood. But remember, the "superfood" we're talking about is super-dark chocolate with 70 percent or more cocoa.
How to eat it: Have one square (1.5 ounce) as a snack, or shave it onto your favorite healthy dessert.
Broccoli
Broccoli is a rich source of dietary fiber, which aids in digestion, and is also packed with vitamins. Of all the cruciferous vegetables, broccoli has the highest concentration of vitamin C, and it also supplies you with healthy doses of vitamin K, potassium and vitamin A.
As if that's not enough, this green veggie also contains sulphoraphane, which has been widely studied in cancer prevention.
How to eat it: Research shows that steaming broccoli preserves more nutrients than other cooking methods. So steam it, then add it to your favorite casserole, or this Pastiera (Egg Pasta Bake).
Green tea
Green tea is the most commonly drank beverage in the world and boasts major health benefits. Green tea can increase your metabolic rate and has long been used in Chinese medicine as a diuretic and tool for improving heart health.
Researchers believe that the polyphenols in green tea could help kill cancer cells and stop them from growing. Although recent studies have pointed to green tea in cancer prevention, these benefits are not yet confirmed by science.
How to take it: Drink one or more cups of hot green tea per day. During warmer months, try iced green tea—but make sure it's unsweetened to maximize its superfood status.
Note that if you are facing pancreatic cancer, speak with your doctor or registered dietitian before adding anything to your diet.
Pancreatic cancer patients and caregivers can access comprehensive disease information, including diet and nutrition tips, recipes and a booklet on the subject – all reviewed and approved by renowned leaders in the field, including Petzel – by contacting the Pancreatic Cancer Action Network's one-on-one PanCAN Patient Services support service by phone or email.
Come back to our blog each week for more Friday Fix: Your Weekly Nutrition Supplement.