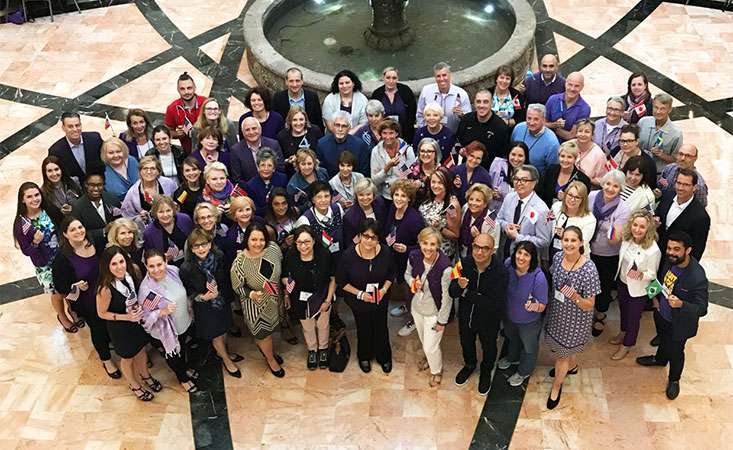 Editor's note: July 30 is International Day of Friendship. Though pancreatic cancer can devastate lives, it can also be a bridge – uniting, binding and leading to enduring friendships. In some cases, these friendships span thousands of miles and several oceans.
"We all share in the heartache of pancreatic cancer, but the motivation, the drive and the need to make a difference – that's what binds us together," said Jessica Abelsohn, co-founder of #PurpleOurWorld in Australia.
#PurpleOurWorld is one of 75 pancreatic cancer patient advocacy organizations, along with the Pancreatic Cancer Action Network (PanCAN), belonging to the World Pancreatic Cancer Coalition (WPCC). The Coalition's members are from 31 countries and six continents. They work together to heighten awareness of pancreatic cancer and improve patient outcomes as they Demand Better. For Patients. For Survival.
They're also forming lasting friendships.
Abelsohn lost her mother to pancreatic cancer, and she and her family founded #PurpleOurWorld so that other families in the same situation wouldn't feel alone. Their reach has grown and strengthened, and so too have the bonds of friendships across the miles, she said.
"When my mum was diagnosed, there wasn't a lot of information or awareness about pancreatic cancer. Our aim with #PurpleOurWorld is to make as much noise as possible so families, friends and patients know that there are people out there fighting for them. And it's much better to make all the noise with friends."
Jenny Isaacson, vice president of strategic partnerships at PanCAN, said that though the members of the Coalition are initially drawn to the collective goal of raising awareness of the disease and improving survival, forming friendships is a key ingredient of what makes the Coalition so strong.
"It's a pleasure working with Coalition members around the world and seeing friendships formed in spite of the devastation that so many have experienced due to pancreatic cancer," Isaacson said. "Since its official launch in May 2016, the Coalition has done a very good job of building trust between members. This global collaboration strengthens the individual efforts of each member organization and will enable us to have greater impact on changing patient outcomes."
In another example of strengthening relationships while working together to achieve a common goal, four Coalition member organizations in the United Kingdom recently paid a visit to Parliament to advocate for pancreatic cancer research funding.
Pancreatic Cancer Action, Pancreatic Cancer UK, Pancreatic Cancer Research Fund and Pancreatic Cancer Scotland convened at the House of Commons with the All Party Parliamentary Group on Pancreatic Cancer to discuss the year's parliamentary priorities.
#PurpleOurWorld's Abelsohn added that celebrating the success of other member organizations' achievements and helping each other by sharing information and ideas is, after all, what friends do.
"Through the WPCC, we have friends all around the world, so it isn't just a collaboration of organizations – it's a family," she said. "We have each other's backs.
"A lot of the member organizations have been personally touched by pancreatic cancer, so there's a way we can relate to almost everyone's story."
Abelsohn said that during a recent visit to her neighborhood grocery store in Australia, she couldn't help but notice a shopper wearing a bright purple T-shirt. She took a closer look and realized it was a PanCAN PurpleStride shirt.
"I stopped her in the middle of the aisle and asked her about it," Abelsohn said. "She told me that she lives in Australia, but that she supports pancreatic cancer wherever she can. On a recent trip to New Jersey, she had taken part in their PurpleStride walk in honor of her cousin's husband.
"What a small world!"