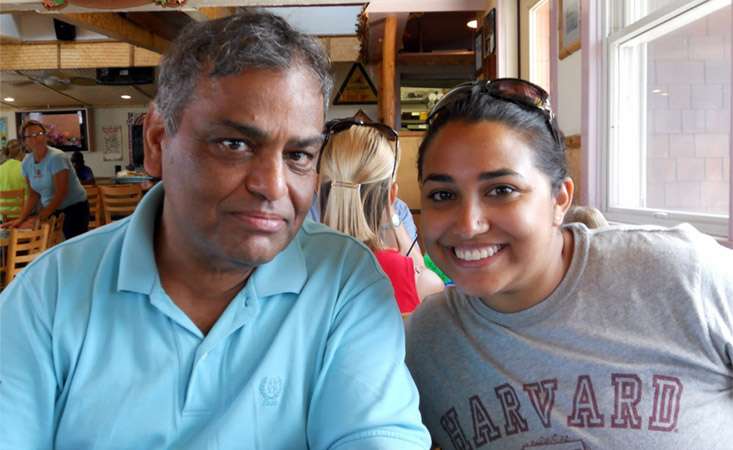 Editor's note: PanCAN would not be the organization it is without its tireless and dedicated volunteers. To celebrate Volunteer Appreciation Week, Community Engagement Coordinator Paula Mukherjee shares about the loss of her father from pancreatic cancer, what motivated her to become a PanCAN volunteer and eventually, a full-time member of the PanCAN team.
In the weeks and months following my father's stage IV pancreatic cancer diagnosis, I was a whirlwind of action. I moved home to help my mother and sister with caregiving. We accompanied him to his many doctor's appointments and seemingly endless blood draws; we joked with him during his day-long chemotherapy sessions and sat with him as the post-chemo exhaustion sunk in.
I borrowed cookbooks from the cancer treatment center's library and bookmarked chemo-friendly recipes. I prepared my dad's meals, hoping I could find the magic combination of ingredients that he could tolerate. I joined him for daily walks around our neighborhood and we revisited the parks of my childhood, reminiscing about the Girl Scout camping trips that last brought us there.
This cyclone of anxious activity was draining — I often ended the day with exhausted tears in my eyes — but I couldn't anticipate how much more painful it would be when there was very little left for me to do. As my father's health deteriorated, there were no more meals to cook or strolls to take together. There was no reason to put on a cheerful mask because the few conversations left to carry only lasted a few minutes. I felt shattered and often found myself walking on the same neighborhood streets, alone.
I found PanCAN PurpleStride when I needed to redirect my restless energy, and I threw myself wholeheartedly into fundraising. I'll never forget my first event day. I bounced along with the purple-clad crowd as the DJ blared Zumba music. I cried while reading the loving messages on the memorial wall. I was sad, but also uplifted.
I called my mom before leaving the venue, happily filling her in on my fundraising successes. After congratulating me, she quietly let me know that my dad, who had become very ill after his latest chemotherapy session, was admitted that morning into palliative care at the hospital. This was a gut-wrenching cycle that would repeat until he had to end treatment and move into a hospice care facility.
After my father's death, I faced the same problem as before, with renewed intensity. Now there was truly nothing more I could do for my dad, but I needed to focus my grief and agitation somewhere.
This began my journey as a PanCAN volunteer. I started fundraising and volunteering in an effort to regain my power, but the experience contributed so much more. I made friends, developed new skills, and remembered what it felt like to have fun. I also began to view painful memories through a different lens.
The first time I went to the grocery store after my dad's death, I became enraged with a thought: what had been the point of it all? I hadn't found the recipe that would dilute the metallic taste in his mouth. I never concocted a milkshake that could stop his weight from precipitously falling off. My efforts to save his life, small as they were, had no impact.
It took me years to come to the realization that the meals were never the point. While I had been single-mindedly seeking the magic recipe, I was spending time with my dad. Just as he had filled up my car with gas to demonstrate his love, I had shown my care through breakfast sandwiches. The realization made my anger recede. There had been a purpose, just not the one I had imagined.
Some volunteers have similar stories to mine, while others arrive at PanCAN on different paths. Like me, some are looking for a way to overcome their feelings of powerlessness; others join because they are survivors, or want to support a survivor in their lives, or any one of a number of motivations. Our journeys are different – not all have joined the PanCAN team like I have – but they bring us to the same place. We don't have to walk alone.
You can make a difference for pancreatic cancer patients.
Volunteer
with your local affiliate!