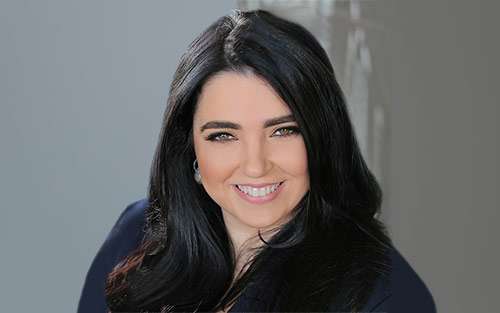 Last month we welcomed Victoria Manax Rutson, MD, to our team as our first Chief Medical Officer!
The need for this vital role became apparent as we moved closer to launching Precision Promise – the first large-scale precision medicine trial designed to transform outcomes for patients with pancreatic cancer.
In this role, Victoria will provide strategic direction and operational oversight for our high-priority clinical initiatives, with particular emphasis on Precision Promise and its Clinical Trial Consortium.
Victoria will work closely with Lynn Matrisian, PhD, MBA, our chief research officer, as well as clinical cancer research institutions and biopharmaceutical companies to build a productive and collaborative team that will accelerate progress toward our goal of doubling pancreatic cancer survival by 2020.
We are thrilled to have Victoria on staff and are impressed with her professional experience, her influence in the pancreatic cancer community and the immense passion she has for the work she does.
We recently sat down with Victoria and asked her a few more questions about her background and her life in general. We're sharing the answers here so that you can get to know her better, too. You can also learn more about Victoria on her bio.
Q: Where is your hometown?
I grew up everywhere, but I consider Dallas, Texas my hometown in the United States and London, England home. That is where I grew up and that is where my husband and I will likely retire.
Q: Tell me more about your family life?  
My family is made up of my husband David and  we have two wonderful boys, my stepson Giles(17) and our son Alexander (5). This year we had one son entering college and one entering kindergarten.
Q: Salty or sweet?
I like a combination of both. I don't think you can have one without the other.
Q: Your education has taken you across the globe. Do you speak any languages beside English?
I am fluent in French and I speak a little Spanish.
Q: What drove you to become a doctor? Was there a turning point in your life, or had you always known this was your career path?
If you did my genomic analysis, I'd come up MD-positive! I come from a family of eight physicians – I don't think I probably had a choice about my future career, but at the same time, I didn't want to be anything other than a physician – it was all I knew growing up.
Of all my family, I am the only one who went into oncology – and I knew I would do oncology well before I entered medical school.
Q: How did you know?
I think the majority of individuals who go into oncology are, personally touched by cancer in some manner. Like many, I have experienced it with multiple members of my family which paved my path very early in life.
Q: You first started your career in the clinic, working with breast cancer patients. How did you make the switch from the clinic to industry?
When I was in the clinic, I loved the patient interaction – it was always very special to me. At the time, the oncology community was conducting more and more research in breast cancer and we were beginning to see the outcomes of these breakthroughs with patients. This fueled my desire to learn more about drug development.
At that point, I became more involved with clinical trials. I was fascinated by the process of drug development and wanted to expand my knowledge. That's why I moved into industry.
But even still, I continued to feel a very strong connection to the patient and missed the interaction. Joining the Pancreatic Cancer Action Network has brought me back to what I love – the patient.
Q: What was one of the most impactful or meaningful roles you played during your tenure on the industry side?
Being part of the team that developed what is now a standard of care for pancreatic cancer. It is similar to watching a child's development. I was there from conception, then through the birth, and then watched the program grow throughout the years. I now look forward to accelerating progress and bringing promising therapies to patients faster. 
Q: Prior to joining our organization, you've served as a spokesperson and proponent for the pancreatic cancer community. What about the disease encourages you to work so hard?
Being in the world of oncology, the desire to do more for a disease becomes part of who you are. I'm just as enthusiastic today as I was when I started doing research years ago. The enthusiasm and desire to come to work every day has never waned.
In particular, the pancreatic cancer community is one of the strongest and most close-knit communities I've ever encountered. There is an overwhelming collective desire to make a bigger impact and you want to be part of the team. When you've seen survivors and people who have overcome their daily challenges with this disease, it's one of the best feelings in the world. Ultimately, it's working with the community and people who have the same mindset you do. You celebrate when we hit the same wonderful milestones, and you have a support network when we have our challenges. It fuels your desire to do more.
Q: What excites you most about working at the Pancreatic Cancer Action Network?
The team! Everyone is so dedicated and so driven. It's the opportunity to embark on new development opportunities that could really change the landscape of how we do clinical trials, especially in this disease where it's needed the most. This is the disease where we need to change how we conduct clinical research.
Q: And speaking of that kind of change, what most excites you about Precision Promise?
We need to accelerate the clinical trial process for pancreatic cancer patients. Precision Promise will bring leading-edge treatment options to patients by understanding each tumor's unique molecular analysis. This will create a new culture of learning for the community – one where the patient is always at the center of every decision. That will be transformative for pancreatic cancer and hopefully for many other diseases as well.
Q: Who in your life has most inspired you?
Two people.  One is my mother. As a physician herself, she set a wonderful example by helping others. It's from her that I get my work ethic. She's an amazing woman. I also wouldn't be where I am today without my husband. He's phenomenal. He's always stood behind me 100% with his encouragement and support.
Q: What legacy do you hope to leave our organization and the larger pancreatic cancer community?  
Truly making a difference for the patients. Continuing to Wage Hope. Because that's what patients need the most – hope.