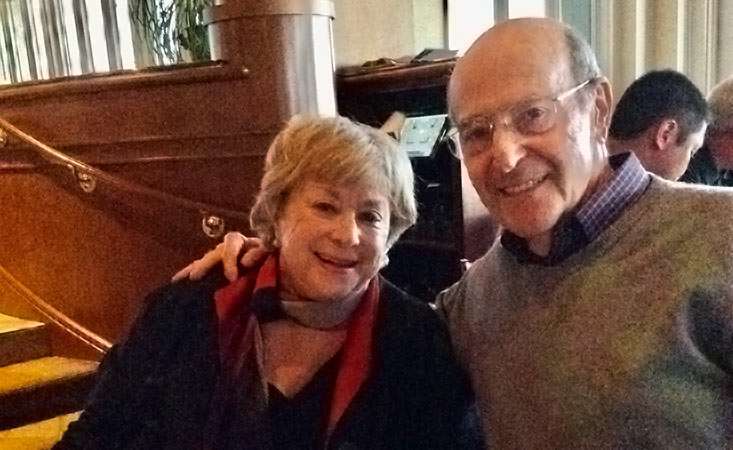 What inspires a three-year pancreatic cancer survivor and his wife?
Teaming up with their cousins to support the work of an early-career PanCAN research grantee.
Harriet and Gerard (Gerry) Berner of Palo Alto, Calif., and Cheryl and Steve Kole of Monte Sereno, Calif.,  are closely connected. Harriet and Cheryl are first cousins.
The Berners have been giving to PanCAN's PurpleStride Silicon Valley for several years through their cousin, Steve Kole. Steve is a PanCAN Silicon Valley Affiliate Team Captain and has been fundraising through PanCAN's PurpleStride since 2013.
When Cheryl and Steve decided to support the research of Krushna Patra, PhD, Harriet thought it was a great opportunity for Gerry and her to join them.
The result is the 2020 Pancreatic Cancer Action Network Career Development Award, funded by Steven & Cheryl Kole and Harriet & Gerald Berner Family Charitable Fund.
Three years ago, pancreatic cancer became a very personal matter to the Berners.
While Harriet was undergoing treatment for a medical condition, Gerry rapidly lost 40 pounds.  At first he attributed the weight loss to his focus on Harriet's needs. When he noticed he was also dehydrated and his urine had turned orange, he made an appointment with his doctor.
Days later, after being diagnosed with pancreatic cancer and meeting with a surgeon, Gerry underwent the Whipple surgery.
Gerry understood the importance of choosing an experienced pancreatic cancer healthcare team. He said his surgeon performs more than 90 Whipple surgeries a year.
Harriet learned about PanCAN's Patient Services from Cheryl. "The case manager sent us materials right away. PanCAN is a great resource to partner with doctors and supplement the information and education they provide."
Harriet, a volunteer at Stanford's Health Library, knows how important it is for patients to get the information they need as soon as possible.
Gerry, a retired cardiac anesthesiologist, said that fundraising to fight pancreatic cancer is a responsibility he takes seriously.
"The government can only fund so much research. We're fortunate to be in a position to help and we're glad to do it."
Harriet said it hasn't been easy for Gerry, but he does his best to stay active. "He still plays golf – he's just remarkable. All his friends are amazed. He refuses to let pancreatic cancer limit him."
Although PanCAN's Survivor & Caregiver Network has been a source of support to Gerry, he admits it was hard at first to talk to other members about his journey. "My dad, who was from Hungary, always told me, 'Hungarians don't share their troubles with people. You've got to deal with things on your own.' But sharing has helped me and I feel good knowing I've helped others."
Gerry and Harriet met in 1952 when Gerry was playing first base in a summer baseball league. Harriet and her friends were sitting near the baseline. Gerry was cracking jokes and making them laugh. "I asked her out," he recalled. "We went to a drive-in movie with another couple and then we started dating."
The couple have been happily married for 61 years. According to Gerry, the key to a successful marriage is to, "Just say 'yes.' Don't argue."
All of us at PanCAN are grateful to the Berners and the Koles for their support in the fight against pancreatic cancer.
Give
to PanCAN and give pancreatic cancer patients a chance at better outcomes.