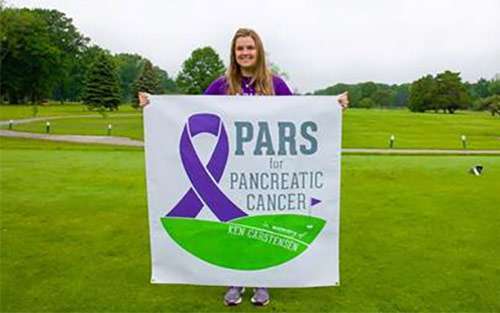 Ken Carstensen was a collegiate football player, the kind of guy who super glued cuts together instead of going to the doctor. He once had a broken arm and removed his hard cast every week to play during his football game and then had it re-plastered. He was strong, tough and a hero to his daughter Sarah.
"If you told me almost three years ago that my father would no longer be in my life, I would have probably laughed at you. He was my dad, my hero. He was strong and the backbone of our family," Sarah said.
In August 2012 Ken started to have pain that radiated throughout his body.
"First it was his back, then the pain spread through the rest of his body. He thought he hurt himself golfing, but when the pain wouldn't go away, he went to the doctor. They completed blood work, and his levels were a little skewed, but it didn't seem to be cause for concern."
Ken started to show signs of jaundice and they eventually found a mass on his pancreas. His family was shocked to the core.
"His typical response was 'I don't need to go to the hospital, I will be fine!' Needless to say, we admitted him and found his bile duct to be blocked by a benign mass on his pancreas." Sarah said.
After endless amounts of research he underwent the Whipple Procedure in October 2012. The operation was mostly successful, aside from the doctors having to leave a piece of the mass on an artery.
Ken endured several rounds of chemo and continued going to appointments, but in the spring of that same year, the cancer had spread to his liver. Ken had stage IV pancreatic cancer.
Ken decided to stop his treatments and return home to be closer to his children. He passed away in June 2013.
Since Ken was clearly a fighter, Sarah knew she had to fight back too. She wanted to do everything she could to honor her father.
Sarah started off as runner for TEAMHOPE (a program that gave individuals and teams the opportunity to raise awareness and funds for the fight against pancreatic cancer), but then realized she could create her own event. She got creative by channeling one of her dad's favorite pastimes, playing golf.
"I decided to make my own event and host a golf outing in memory of my father. It seemed like the easiest way to attract a good amount of people!" Sarah said.
Although there is a lot of work involved in organizing the event, Sarah notes that it's her dad's spirit and legacy that have made it successful.
"Everyone always talks about how organizing a golf outing would be really hard. Realistically, my dad touched so many different people in different ways that his legacy is what really executes this event! Everyone comes out to honor him in this creative way."
The event has raised $20,000 in the first two years and Sarah anticipates that the event will continue to raise just as much money for years to come. In addition to being excited about this year's event, she was able to use the new Wage Hope My Way online platform as means to organize and create an online fundraising page for PARS for Pancreatic Cancer.
"I started using the new site as soon as it was launched and found it to be very user friendly. I love that you are able to access anything you need as far as support from one spot!"
You can get inspired and create your own Wage Hope My Way event too. Visit our website to get started. The possibilities are endless!