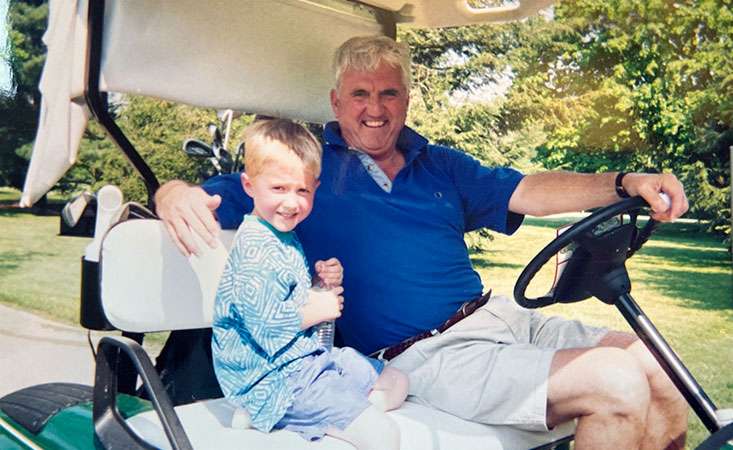 Matt Ernst always looked up to his grandfather, Pete.
"Pete taught me a great deal about life. He taught me how to be ambitious and to have goals without losing humility," Matt said. "He embodied the American Dream. Though Pete grew up with very little, he worked his tail off and lived a life full of incredible experiences."
Matt lost his grandfather to pancreatic cancer in August 2019, about a year after diagnosis.
"Though it was a time to grieve, I reflect on his life and can't help but smile." Matt said.
"You're not defined by a disease that takes hold of you at the end, but rather by your impact on others."
One impact Pete had on Matt was that he should never use excuses as a reason not to do something. That's why Matt decided to do a half Ironman triathlon in Pete's honor this weekend, despite never having done anything like this grueling competition before. His grandfather's work ethic, coupled with conversations with a good friend who had competed before led him to a half Ironman in Chattanooga, TN, to be held Sunday, May 23. When he crosses the finish line, his entire family (with the exception of his brother and wife, who are expecting a baby) will be there, cheering him on.
A half Ironman is a 1.2-mile swim, a 56-mile bike ride and a 13.1-mile run, also known as a 70.3 as the total distance is 70.3 miles.
"My grandmother has also played a major role in my life with her compassion, sense of humor, and caring nature," Matt said. "I asked her for suggestions on an organization to fundraise for and she told me about PanCAN." Matt started his Wage Hope My Way page with a goal of $7,500 and having already exceeded that, has set a stretch goal of $15,000.
"A half Ironman felt fitting," he said. "PanCAN is doing everything it can to meet the challenge and increase survival so those diagnosed today have a fighting chance and have more hope going into their battle."
"Everything is impossible, until it isn't," Matt said, "and I love how PanCAN is striving for a lofty goal that means so much. "
In an interesting bit of timing, Matt went to work for Zoom right before the pandemic began in 2020.
"It's been amazing to be part of a company that's in a position to help so many during this time," Matt said.  "Not just keeping companies connected, but to also help family, friends, and students communicate."
"My heart goes out to so many who have been heavily impacted by this pandemic and especially for those who have lost loved ones," said Matt. "I believe we've developed more empathy for each other, whether it's talking with peers or strangers."
"After all," he said, "we're all in this together."
Join the movement to create a world in which all patients with pancreatic cancer will thrive.
Get involved today
.