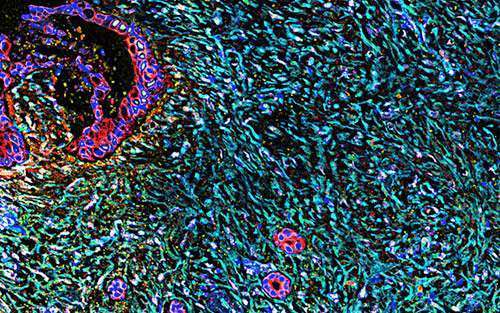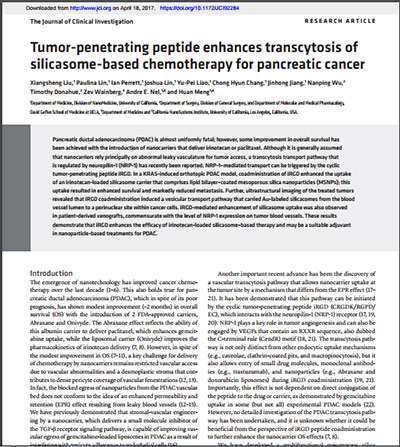 A novel peptide (small piece of protein) developed by a Pancreatic Cancer Action Network grantee was shown to benefit a nanotechnology-based approach to improve drug delivery to hard-to-reach pancreatic tumors.
A research team at UCLA's Jonsson Comprehensive Cancer Center and the UCLA California NanoSystems Institute published promising experiments conducted in mice in the prestigious Journal of Clinical Investigation earlier this week.
The peptide used in the experiments is called iRGD, and it was developed by two-time Pancreatic Cancer Action Network research grant recipient Kazuki Sugahara, MD, PhD.
"One of the biggest challenges to effectively treating pancreatic cancer is the dense stroma – a complex mixture of tissue types that surrounds the tumor," explained Sugahara, an adjunct associate research scientist in the department of surgery at Columbia University College of Physicians and Surgeons. "The stroma is thought to form a physical shell around the tumor that serves as a barrier to drug delivery."
Several years ago, Sugahara and his former mentor and colleagues published seminal work on the development of a tumor-penetrating peptide, iRGD, which can go through the stroma and – more importantly – bring other compounds with it that improved the drugs' ability to kill the cancer cells.
Sugahara told us that he was highly encouraged to see that the research team at UCLA was able to achieve similar successful results utilizing the iRGD peptide.
The data published in Journal of Clinical Investigation suggest that a nanoparticle carrying the chemotherapy drug irinotecan showed greater effectiveness at treating mice with pancreatic cancer when iRGD was co-administered. In fact, the mice treated with the nanoparticle and iRGD combination showed tumor shrinkage, inhibition of metastatic spread and longer survival.
"We were pleased that the UCLA team reproduced and validated some of our findings on the ability of iRGD to penetrate the stroma of pancreatic tumors in mice," Sugahara added. "My team's next steps are to continue generating robust preclinical data so that we can then test the compound in patients.
Our work wouldn't have been possible without the generous support of the Pancreatic Cancer Action Network."
Sugahara originally received a Career Development Award from us in 2012, funded by the Daniel and Janet Mordecai Family Foundation. Then in 2015, in partnership with co-principal investigator Andrew Lowy, MD, a member of our Scientific & Medical Advisory Board, Sugahara was awarded a Translational Research Grant.
"Dr. Sugahara represents a terrific success story for our Research Grants Program," said Lynn Matrisian, PhD, MBA, chief science officer at the Pancreatic Cancer Action Network. "Our early-career support helped keep him in the pancreatic cancer field, and now his project has evolved to a highly translational study that is nearing clinical testing.
"Seeing positive results using the iRGD peptide in others' laboratories is an important step forward for Dr. Sugahara's work – and it could prove to be a novel strategy to penetrate the tumor stroma, improve drug delivery and move us closer to increasing survival for this disease."
See more stories of the impact of our research grants program and learn about ways you can support leading-edge pancreatic cancer research and other programs.