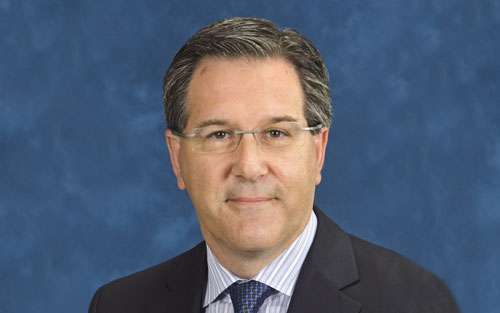 Preliminary results from an early-phase immunotherapy clinical trial suggest that an innovative treatment designed to stimulate a patient's immune system, administered in combination with chemotherapy, could be effective for patients with locally-advanced or borderline-resectable pancreatic cancer.
The study was primarily conducted by 2015 Translational Research Grant recipient David Linehan, MD, and our funding was cited as critical toward supporting this project. Dr. Linehan, chair of the department of surgery at University of Rochester, collaborated with his former colleagues at Washington University School of Medicine, St. Louis. They included grantees William Hawkins, MD, and David DeNardo, PhD.
Dr. Linehan and his research team's findings were recently published in the prestigious journal, The Lancet Oncology, which features important studies in the field of clinical cancer research.
Among the reasons pancreatic cancer has historically been very difficult to effectively treat is that the tumor is able to hide itself from the patient's immune system, which may otherwise be able to launch an attack against the abnormal cancer cells.
Dr. Linehan's experimental strategy involves disrupting the tumor's ability to evade an immune attack.
"We wanted to try a novel approach that hadn't been tried before in cancer patients," Dr. Linehan said. "The drug was not developed for cancer, but rather for other diseases of the immune system. Based on data from our mouse models of pancreatic cancer, we had evidence that it would shrink tumors by activating an immune response."
The drug that was tested is called PF-04136309, and it was administered orally to patients in combination with FOLFIRINOX, a chemotherapy regimen that includes oxaliplatin and irinotecan, plus leucovorin and fluorouracil.
The results of the small early-phase clinical trial revealed that out of 33 patients treated with PF-04136309 and FOLFIRINOX, 32 (97 percent) showed improved local tumor responses.
Moreover, the combination therapy allowed adequate tumor shrinkage so that 13 of 33 (39 percent) patients became eligible for surgical removal of their tumor. Prior to therapy, in most patients, their tumors were not considered surgically resectable. Finally, the study results suggested that the addition of PF-04136309 did not worsen any side-effects caused by FOLFIRINOX.
An accompanying editorial article was authored by Philip Philip, MD, PhD, a professor of medicine at Wayne State University School of Medicine and a clinical professor of oncology at the Barbara Ann Karmanos Cancer Institute in Detroit. Dr. Philip is a member of our Scientific and Medical Advisory Board.
In the editorial, Dr. Philip cautions that the results of Dr. Linehan's study are preliminary and were tested in a small group of patients. In addition, he comments that it would be important to identify in advance which patients are the best candidates for this therapeutic regimen, allowing a more personalized treatment approach.
"Our treatment strategy had better than expected response rates," commented Dr. Linehan. "Based on the promising results of this trial, we are embarking on a phase II clinical trial in pancreatic cancer patients with metastatic disease."
At the Pancreatic Cancer Action Network, we strongly recommend that all patients consider clinical trials each time a treatment decision is made, including at diagnosis. A PanCAN Patient Services Case Manager can perform a personalized clinical trials search, or you can start your own search through our easy-to-use Clinical Trial Finder.
For more information about clinical trials and other patient services, please contact PanCAN Patient Services. Case Managers are available Monday – Friday, 7 a.m. – 5 p.m. PDT or complete our contact form.