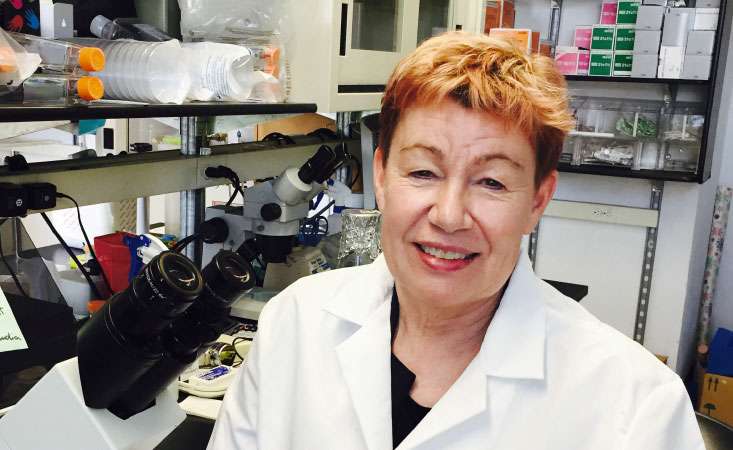 Editor's note: In honor of International Women's Day, we are celebrating several PanCAN research grant recipients whose experiences in different parts of the world have helped them become the scientists they are today.
Their Journeys
For Christine Chio, PhD, her love for science was fostered by exploring the outdoors during her childhood. She was born in Macau, and then her family moved to Guam when she was 6 years old. "During this time, I lived by the beach and had extensive exposure to nature and small animals," she said. "This formed the foundation of my interest in the intricacies of biology and my aspiration to study the life sciences."
Her family next moved to Hong Kong, a bustling city for business and tourism. However, Christine worried she couldn't find the resources and opportunities there to further develop her interests in a biological research career. So, she talked her parents into letting her move to Toronto – alone – for her senior year of high school. It was considered especially unconventional for the daughter of a Chinese family to not stay close to the family.
"I was very persistent and garnered funding from multiple sources to cover my tuition and living expenses," Christine said. "My parents finally gave in."
Christine stayed in Canada for her undergraduate and graduate schooling at University of Toronto. While there, she worked in a cancer hospital laboratory. An interaction with a patient with advanced pancreatic cancer sparked an interest in cancer biology. "It dawned on me that my research was not just a matter of personal curiosity, but a great privilege and also a source of hope for patients and their families," she said.
---
Daria Esterházy, PhD, grew up in the U.K., Austria, Tunisia, the U.S. and Belgium, since her father was a diplomat. She went to undergrad in Cambridge and did her PhD in Switzerland and postdoc in Dallas. Moving to New York next continued the trend of moving every few years.
"I speak German, French and English," Daria said, "and because of this life, I feel like I belong nowhere and everywhere."
Daria realized along the way that her heart was "beating for medicine." She worried, however, about the time and effort required to become a medical doctor. She recalled, "It was 20 years ago, and I was in Europe, coming from a very traditional family with many kids and a mother at home."
Daria learned that pursuing a career in biomedical research was the right path for her – allowing her to have a tremendous impact in a challenging disease like pancreatic cancer. (She also found out it takes just as long to become an independent investigator as it does to become a doctor!)
---
For Claudia Gravekamp, PhD, the decision to leave her home country of the Netherlands to continue her research career in the U.S. was difficult.
"My husband wanted to go to the U.S., because research opportunities were better than in the Netherlands," she said. "Initially, I did not like the idea because there were no opportunities to develop my own research in the U.S."
At the time, Claudia was leading a research and diagnosis lab focused on Leptospirosis (a bacterial infection that affects humans and animals) at the Royal Tropical Institute in Amsterdam. This was not a priority research area in the U.S.
After five years of work at the Tropical Institute, Claudia was ready to go to the U.S. She started in 1993 in Boston at Harvard (Brigham and Women's Hospital) as a postdoc and later as an instructor. She stayed there for five years. "I worked on the development and testing of bacterial vaccines. I had a great time there, learned a lot and published a lot. I never regretted it."
Deciding what to do next, Claudia recalled the pain of losing her father, and then her sister, to cancer while she was in college. She decided to apply her experience in infectious diseases and microbiology to cancer research.
Claudia and her husband's research journey took them to San Antonio, then San Francisco, and finally to New York. It was in New York, at Albert Einstein College of Medicine, that Claudia started to develop vaccines using the bacteria Listeria against pancreatic cancer. "We developed a completely new concept using Listeria as a delivery platform for anticancer agents to the tumor microenvironment," she said. A small startup company is now preparing to launch a phase 1 clinical trial testing a version of Claudia's team's Listeria approach.
Claudia joins Christine and Daria in feeling professionally fulfilled and encouraging young girls to follow their dreams – and dream big.
Advice for Young Girls and Women
Perseverance, self-advocacy and finding work/life balance are some of the tips these successful women researchers would provide to the next generation of girls interested in science.
"Thinking back, I don't think I would be where I am right now had I not been persistent – and maybe even a little too stubborn," Christine said. "Therefore, one piece of advice I would give to young girls is that the only limit to their dreams is themselves. Do not let circumstances and what other people tell you dictate your future."
Daria agrees. "Go for it, they need you out there!
"And don't ever think it's not going to be doable to have a family at the same time. Every career path is tough to juggle with family at times, but I would say science has some flexibility as to the how and when. And when you're figuring out what to study, don't shy away from asking questions there is absolutely no answer for yet."
Claudia wants to remind those starting out as scientists to be passionate and persistent, and to not give up when things go bad. She said, "Always pursue the truth. Promote yourself, join conferences, study sections and committees at your institute. And spend a lot of time practicing writing grants, because as a principal investigator in science, grants are your only survival."
Holding onto Tradition
All three women agree that it's important to remain connected to their cultural heritages.
Christine shared, "Growing up, we would go out for dim sum breakfast every Sunday morning, rain or shine. We continued doing this virtually after I moved to Canada and now in the U.S., over the phone initially and now over FaceTime (Saturday dinner for me and Sunday breakfast for my parents).
"My dad is very adamant about this, so our family stays very close even though we are halfway across the world apart."
Claudia finds cultural fulfillment through soccer (she insists that European soccer is superior to American), movies, theater, museums and architecture. And she tries to return to the Netherlands every year to share the country with her son and visit her brother and sister who still live there.
For Daria, who is Russian-Orthodox, she especially loves carrying on Easter traditions. This includes beautiful services, big family events and traditional foods.
"I also want to make sure our children learn something about each of the countries where I lived – not only the languages but also culture, such as Tunisian food, music and ceramics – through showing them pictures, visiting places and connecting them to people we still know there."
She added, "On the professional front, this life has made me excited about being able to build a diverse research team, knowing that wherever you come from, you'll bring something unique and special."
Through your support
, PanCAN will continue to fund amazing scientists like Drs. Chio, Esterházy and Gravekamp.