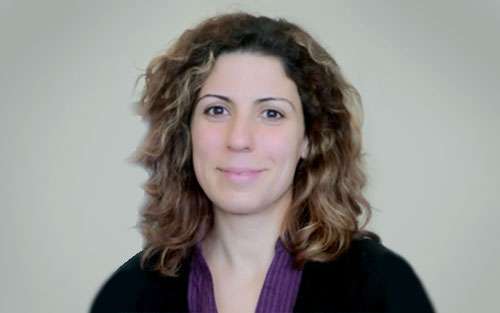 When Nada Kalaany, PhD, set out to establish an independent lab at Boston Children's Hospital, she was determined to answer really hard questions: Does pancreatic cancer behave differently when the tumor is in an obese vs. lean person? How do obesity-associated tumors metabolize, or break down, nutrients differently? And most importantly – can we stop or slow the growth of aggressive pancreatic tumors found in obese or lean patients?
With the help of a 2015 Pancreatic Cancer Action Network Career Development Award, funded through the generosity of an anonymous foundation, Kalaany and her research team have now discovered some answers to these critical questions. 
Published today in Nature Communications, Kalaany and her colleagues report that a protein called arginase 2 (ARG2) is induced in pancreatic tumors arising in obese individuals. Moreover, the researchers' data suggest that the cancer cells depend on ARG2 activity – and without it, the cells could die or slow their growth.
"We find that obesity-associated tumors have enhanced growth and increased expression of genes that metabolize nitrogen," said lead author Kalaany, assistant professor of pediatrics at Harvard Medical School and associate in medicine at Boston Children's Hospital. "In particular, tumors of the obese are dependent on ARG2, an enzyme that helps them get rid of excess nitrogen, a byproduct of protein breakdown that could accumulate in the form of ammonia."
Kalaany added, "Silencing ARG2 in human tumors grown in obese mice strongly suppresses tumor growth – representing a novel strategy to stop or slow disease progression."
Supporting early-career investigators like Kalaany to build and strengthen their pancreatic cancer research program is a critical goal of our Research Grants Program.
"We are thrilled to have played an integral role in Dr. Kalaany's pivotal research," said Julie Fleshman, JD, MBA, president and CEO of the Pancreatic Cancer Action Network. "Novel approaches like this will help move us closer to our goal to double survival by 2020 and ultimately, to improve patient outcomes. We will continue to bolster young investigators to accelerate progress in the field."
Kalaany noted that the funding from PanCAN and the integration into the pancreatic cancer research community have benefited her and her research efforts.
"I am deeply grateful to PanCAN for supporting our work. As an early career investigator who constantly faces challenges in the current funding climate, I could not emphasize enough how important it was for me to receive a PanCAN Career Development Award," Kalaany said. "PanCAN not only provided the funding necessary to successfully bring this exciting project to completion, but also provided a welcoming and supporting atmosphere by sponsoring our participation in conferences that bring together both early stage and well-established investigators with expertise in pancreatic cancer."
And as we move toward our collective goal to double pancreatic cancer survival by 2020, Kalaany's work provides key answers and potential strategies to tackle this complex and relentless disease.
"The next translational step for our project would be to screen for and validate an inhibitor(s) that would be specific for ARG2 and could extend patient lives," Kalaany added.
We need your help today to continue to support potentially lifesaving research like Dr. Kalaany's.