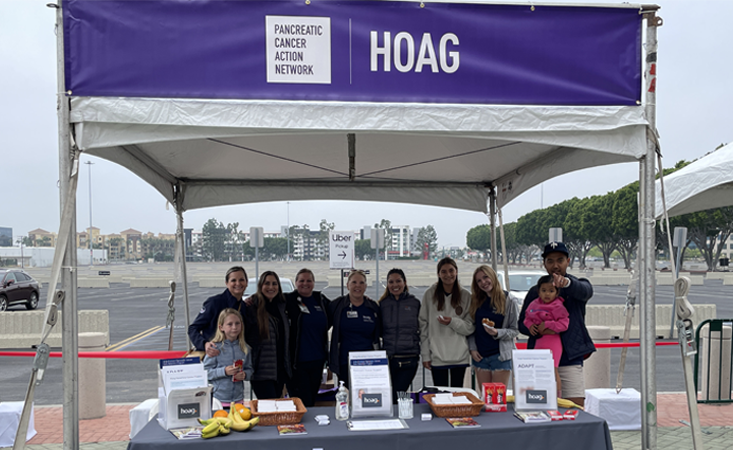 Editor's Note: Hoag Family Cancer Institute is a Premier Sponsor for PanCAN PurpleStride Orange County and has been supporting PurpleStride since 2015.
As a long-standing sponsor of PanCAN PurpleStride, all of us at Hoag Family Cancer Institute wholeheartedly support the event's mission to raise funds and awareness for research, advocacy, education and awareness of pancreatic cancer.
As a leader for pancreatic cancer care in Orange County, Hoag Family Cancer Institute's Pancreatic Cancer Program provides comprehensive care, including screening programs, early detection, treatment and genetic testing. We also offer high-quality multidisciplinary care, innovative clinical trials and support to patients and their families and caregivers in hopes of a brighter tomorrow.
Hoag is the only hospital in Orange County to offer pancreatic cancer patients access to the ViewRay MRIdian linear accelerator, the most advanced radiation treatment available in the United States, that helps target tumors of the abdomen, like pancreatic cancer.
"PanCAN PurpleStride is such an important event to Hoag, our patients, their caregivers and their families," says Tara Seery, MD, a medical oncologist at Hoag who specializes in pancreatic cancer treatment and serves as co-director of Hoag's NK Cellular Therapy program. "The sense of community that is fostered among all who participate keeps us deeply invested in finding an eventual cure for pancreatic cancer."
Diane Eadie, RN, BSN, pancreatic cancer clinical nurse navigator at Hoag Family Cancer Institute and this year's Team Captain, continues to take part in the event to help build awareness in the community and support PanCAN in making an impact on a larger scale. Diane works closely with our Hoag oncologists, genetics department, research team and surgeons, who collaborate to provide the best options for patients and their families.
"I love seeing how many patients and their support systems show up to support each other," Diane shares. "People truly dive in, wearing purple tutus, purple hair, bracelets and even purple glitter."
Diane has seen firsthand the impact the event has on pancreatic cancer patients.
"It's great seeing the smiling faces of my own patients as well as others who are living longer, in most part due to the dedication of all those involved in helping to advance progress in finding a cure for pancreatic patients," Diane shared.
At Hoag, we are proud to offer a monthly pancreatic cancer support group to help extend the sense of community among patients beyond the event into the clinical setting, allowing patients to make lifelong connections. To learn more, visit hoag.org/education.
Heading up Team Hoag for the past four events, Diane gets choked up when thinking about the event's significance to patients.
"Certain cancers bring more fear than others. Pancreatic cancer is one that takes a patient a few days or weeks to sink in," she said. "I think of the patients that felt they had no chance of survival in the beginning, now living many years past diagnosis. I give those patients an extra hug."
By
making a donation today
you're taking bold action to improve the lives of everyone impacted by pancreatic cancer. Your gift will advance scientific research, build community and make vital information available to patients.