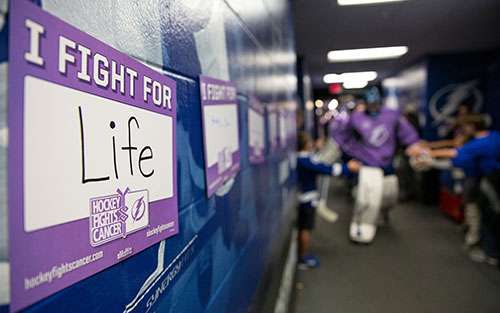 Hockey Fights CancerTM, founded in 1998 by the National Hockey League and the National Hockey League Players' Association, raises funds and awareness in the battle against cancer. Since 2010, the Pancreatic Cancer Action Network has been a beneficiary of the initiative, supporting our Community for Progress through the funds granted.
It's also put us directly into the arenas of many NHL teams, with our volunteer affiliates hosting awareness tables and teams honoring survivors. Teams also support additional fundraising and events, such as donating to PurpleStride and hosting "Skate Nights" to benefit the Pancreatic Cancer Action Network. It's an exciting partnership – and we are thrilled to be a part of it.
"The ability of Hockey Fights Cancer to reach fans with this message of awareness is so important to furthering the work we do every day," said Mary Pomerantz, director, Community and Engagement and Partnerships. "We are grateful for their commitment and the fact that it funds our Community for Progress and moves us toward our goal of doubling survival by 2020."
This year, Hockey Fights Cancer Awareness Month runs from Oct. 24 through Nov. 18. Visit www.hockeyfightscancer.com to find your team's Awareness Night, download an "I Fight For" sign and check out all the photos, personal stories and events around this action-packed season.