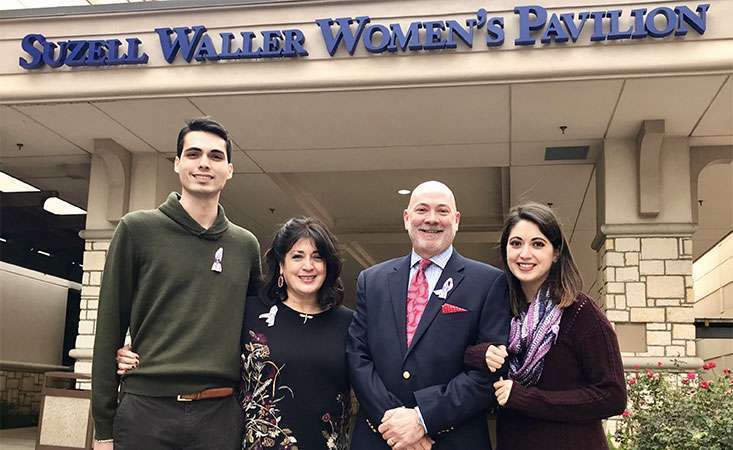 The late Suzell Waller, RN, was immortalized on Dec. 5 when Metropolitan Methodist Hospital in San Antonio, Texas, renamed its Women's Pavilion to the Suzell Waller Women's Pavilion. Waller served as nurse director of labor and delivery and antepartum until her passing from pancreatic cancer on Dec. 18, 2016 – just three weeks after diagnosis.
According to the hospital, the pavilion is the only stand-alone facility in downtown San Antonio dedicated to the health of women and their newborn babies. More than 80,000 babies were delivered under Waller's leadership.
"During her 35-year career in nursing, Suzell was a driving force at our hospital," said Greg Seiler, CEO, Metropolitan Methodist Hospital, in a media alert. "She fostered an environment that encouraged us all to grow and become better at caring for others."
Also in attendance was Waller's sister, Liza Stockwell, and the rest of their family. Stockwell is keeping her sister's memory alive through PurpleStride San Antonio, the walk to end pancreatic cancer. Her team – Suzell Ann Waller's Dragonflies – raised over $5,000 in memory of her sister at the event in November.
"Suzell had a fondness for dragonflies," Stockwell said. "The dragonfly symbolizes change and change in the perspective of self-realization. We walk/run at PurpleStride for change. Change to increase pancreatic cancer research funding.  Change to create an early detection test to screen for pancreatic cancer. Change to increase the survival rate for patients and change that we no longer see a pancreatic cancer diagnosis as an eminent death sentence, but hope to conquer it."
Although the five-year survival rate is still in the single digits, it has increased one percentage point over the past three years and is now 9 percent. Those three percentage points represent approximately 1,500 mothers, daughters, fathers, sons, sisters, brothers, colleagues and friends.
"She should be here," Stockwell added. "I know that Suzell would be happy that we are demanding better for pancreatic research!"
The Pancreatic Cancer Action Network is the only organization that attacks pancreatic cancer on all fronts: research, clinical initiatives, patient services and advocacy. Learn more at pancan.org.