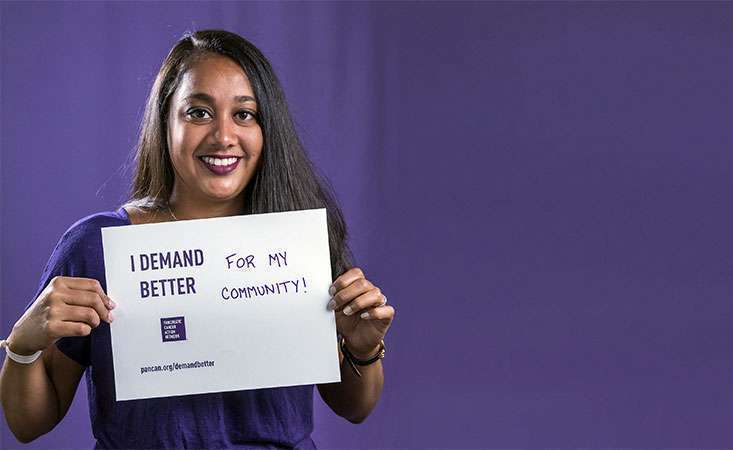 Editor's note: Krystal Fernandes is a volunteer leader for the Pancreatic Cancer Action Network (PanCAN). She serves as the PurpleStride Chair for the San Francisco Affiliate of volunteers.  
We are so moved by your story of how you decided to volunteer with PanCAN.
I don't have a direct connection to pancreatic cancer. I was compelled to get involved because a few years ago my cousin's toddler was diagnosed with an aggressive brain tumor that had low survival rates. Her community gathered around her and supported her in a really beautiful way, and I was inspired by that level of giving back.
One day I was searching for volunteer opportunities on VolunteerMatch.org, and I saw something about PanCAN. I did some research on pancreatic cancer and learned about the low survival rates and the need for more awareness and funding.
I thought, "This is it – this is what I'm meant to do." That was three years ago.
And then you stepped into a leadership role in your affiliate, working with other volunteers on your local PurpleStride.
I wanted to make a real impact. I enjoy leading the PurpleStride committee, because to me, PurpleStride is about much more than fundraising (although that is very important!).
It's also about bringing the community together and celebrating the successes we've had, including developments in research and an increasing survival rate. It's important for the community to come together and see that things are moving in the right direction, and PurpleStride plays a role in that progress. Then, we can get inspired to do even more, so greater successes are seen in research and survival increases.
For those who don't have a connection to pancreatic cancer, why is it important to care?
We likely all have some sort of cancer that has touched our lives. And if we can solve the mystery of pancreatic cancer, we can potentially do the same for other aggressive cancers. Also, it's important to have empathy for others, even if the disease hasn't touched us.
Raising awareness is critical – especially among those who haven't been affected by the disease. A lot of people don't know what it is until they or someone they love gets a diagnosis, which is hugely devastating. The more we know – and the more the world knows – about pancreatic cancer, the more proactive we can be if it does affect us.