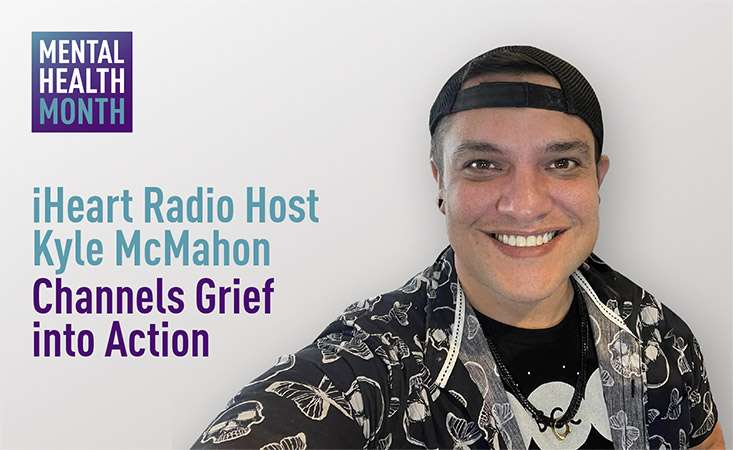 Editor's note: Kyle McMahon is the host of iHeart Radio's Pop Culture Weekly, creator of the podcast Death, Grief and Other Sh*t We Don't Discuss and tireless PanCAN supporter. Kyle most recently emceed PanCAN PurpleStride Delaware 2023 and was Team Captain for Team Joanne McMahon, one of the top 10 fundraising teams. Here, Kyle tells the story of his mom's pancreatic cancer diagnosis and death and how he channeled his grief into action.
My mom, Joanne, was diagnosed with pancreatic cancer two years ago. As with any life-threatening diagnosis, the news was devastating. It was a shock to the very fabric of my being. I couldn't imagine a world without my mom. I had never known a world without my mom. And I certainly didn't want to.
The day she was diagnosed, when I got home from the hospital, I called PanCAN Patient Services, crying about her diagnosis. I was nearly unintelligible. Thankfully, the kind person who answered the phone helped to ease some of my fears through facts. The fact is that Mom wouldn't suddenly die tomorrow. The fact is there are many treatment options available. The fact is that she was diagnosed at stage I, which gives more options to try.
That was just the start of my relationship with PanCAN.
Over Mom's entire cancer journey, PanCAN was there by our side. They worked with Mom, Dad and me through every step of the process. From making sure she was getting the latest in treatments to assisting with the wild world of medical billing to sending care packages through her treatments. They helped Mom set up a fundraiser and helped me to set up a surprise Purple Parade of Positivity where over 80 cars, filled with her friends and family, drove by beeping and hollering their support for her.
They were even there through her death. The day after Mom died, PanCAN sent us a beautiful package with purple ribbons for our family to wear at the funeral. And every single attendee at Mom's funeral got a purple ribbon to wear. Through Mom -- and PanCAN -- we were all one.
As Mom -- and Dad and I -- wanted, in lieu of flowers, donations were made to PanCAN so they could help other families like they helped ours.
But it couldn't stop there for me. There was now such a meteoric hole in my life and my heart and my soul that I needed to do something with all of the emotion and energy that was flowing through me. For my own mental health -- to survive -- I needed to direct that emotion and that energy to do good. And just like Mom taught me, I wanted to help others along the way. I partnered with iHeartMedia to produce a show, Death Grief & Other Sh*t We Don't Discuss.
I've been with iHeart since December 2019 for my celebrity interview show, iHeartRadio's Pop Culture Weekly with Kyle McMahon, but this was not the same. This was not lighthearted entertainment news, movie reviews and celebrity interviews. There was a time and space for that show and while I absolutely love doing it, I wanted Death, Grief & Other Sh*t We Don't Discuss to change lives. I wanted this show to tell the story of Mom's cancer journey intertwined with interviews of subject matter experts to help others on their own journeys. Maybe it was their cancer journey…or maybe it was their grief journey.
Over the next year after Mom passed, I travelled the country talking to experts such as medical psychologist Dr. Nicole M. Duffy about how you deal with a life threatening diagnosis such as pancreatic cancer. I spoke with Dr. Gregory Masters, medical oncologist at ChristianaCare's Helen F. Graham Cancer Center & Research Institute, about the other side of giving a terminal diagnosis. What does the doctor experience? Do they ever lose hope? I spoke with Todd Hara, funeral director and author of Last Rites: The Evolution of the American Funeral about the history of funerals, and why we do them at all.  I even travelled to a town called Lily Dale, New York, which is made up entirely of registered mediums and is said to be a place with special energy that helps to communicate with the other side.
I want Death, Grief & Other Sh*t We Don't Discuss to be the show that I was looking for when Mom passed -- and I hope that it is. Through doing the series, I have been able to channel my grief through a project that I hope will help others through the roughest times of their own lives. I want that for me -- and I want that for Mom.
And through it all, I continue being active with PanCAN, raising money through Mom's fundraising site, engaging on their social media posts and emceeing my local PanCAN PurpleStride events. I want to help PanCAN be able to continue to help others as they have helped us. I want to help PanCAN continue to raise that survival rate until pancreatic cancer is not the horrifying diagnosis I thought it was the day Mom was diagnosed, but a diagnosis of the past.
Together, through PanCAN, we are all able to unite towards a common goal. And whether action through that common goal is for yourself, for your loved one or for the community, it is only together that we can achieve it.
Donate today
so PanCAN can continue to fund research and provide free support to patients and families faced with pancreatic cancer. Your gift fuels progress.