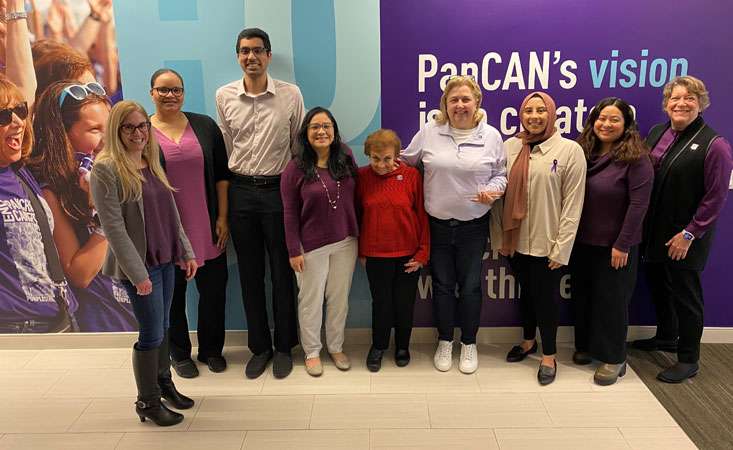 Anytime an opportunity arose to help someone find their way in the world, Carol Kulok was there. Lending a hand, offering words of encouragement, supporting in any way that she could. Simple gestures and gifts of kindness made her the happiest. And when Carol was diagnosed with pancreatic cancer in 2014, her daughter Lisa Kulok said, these qualities were amplified.
"Her diagnosis was a hard moment," Lisa said, "but at the same time, it was amazing to see her true self get even better over the two-and-a-half years that she fought the disease. She grew even more compassionate. In the hardest of times, she still found a way to help others. She also always found a way to stay positive…and sometimes, she was the only one who was able to do so."
Carol believed deeply in the work that PanCAN was doing, from funding research to helping patients and families navigate the disease. She believed in it so much that, for the past three years, Lisa has supported PanCAN's Patient Services program via a transformational gift in honor of her beloved mother. The gift is the Carol Kulok Award for Compassion which reflects the essence of Patient Services – helping pancreatic cancer patients and their families – as well as Carol's compassionate spirit.
The award is given annually to one member of the PanCAN Patient Services team who has gone above and beyond in service to patients and their caregivers. In a recent presentation ceremony for PanCAN staff that included Lisa, her mother's best friend Nancy and other special guests, Lisa presented the third Carol Kulok Award for Compassion to PanCAN Patient Services Senior Case Manager Brianne Flores.
"Brianne embodies the spirit of this award – caring, compassionate, and always going above and beyond as she helps patients and loved ones," Lisa said. "She is a leader and a role model, and she is exceptional in professionalism and performance."
Brianne said she was moved and inspired by the honor.
"To hear from Lisa how compassionate, caring and amazing her mother Carol was…it means so much," Brianne said. "I have always had a passion for helping others – and I'm privileged to share that passion with my amazing PanCAN colleagues. I know that through the work that we do, we are contributing to a world where pancreatic cancer patients can thrive.
"Thank you, Lisa, for this amazing opportunity and this award, as well as for sharing your mother's story with us all. I will continue to show up and help patients throughout their journey by ensuring I'm embodying Carol's spirit of compassionate service to others, and I'll make sure I keep her light shining bright every day."
Lisa, who also joined the PanCAN board of directors to continue her mom's legacy of giving, said her hope is that through her gift to PanCAN, other patients and families will have a positive experience and outcome.
She added that she partners with PanCAN because she is energized by the organization. Just as her mom had been.
"We learned about PanCAN through PurpleStride," Lisa said. "That was our entry to this organization, which has become like a second family. At PurpleStride, Mom felt like part of the community, and that she was not alone in the face of a devastating diagnosis. She was inspired to see other survivors, and that gave her the fuel to keep fighting.
"I'm grateful that we get to keep Mom's light and legacy alive through the Carol Kulok Award for Compassion."
PanCAN President and CEO Julie Fleshman, JD, MBA, expressed gratitude to Lisa for her investment in PanCAN's Patient Services program in honor of her mother.
"It's really special that you allow us the privilege to honor your mom's legacy in such a meaningful and special way through this award," she said to Lisa at the recognition event."
PanCAN also sends special heartfelt gratitude and congratulations to Brianne. Lisa noted that her mother would have enjoyed being a part of the ceremony to honor Brianne, as well as meeting the previous award winners.
"She would have loved that more than anything."
Lisa Kulok continues to support PanCAN PurpleStride, the ultimate walk to end pancreatic cancer. She is a premier sponsor of PanCAN PurpleStride Orange County and invites everyone with a passion for helping others to
join a PurpleStride event
near them on Saturday, April 29, 2023.