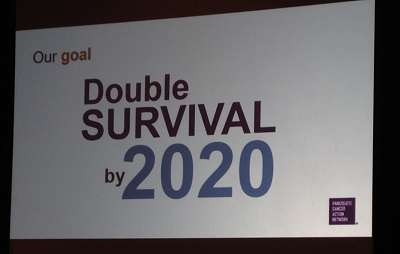 The final day and a half of the American Association for Cancer Research (AACR) Pancreatic Cancer Special Conference in Orlando, Fla., was just as exciting and inspirational as the first day and a half.
Saturday morning, May 14, began with a session devoted to preclinical research toward new therapeutic options for pancreatic cancer patients. Among the challenges of preclinical research, or experiments conducted in the lab with the goal of translation to patient benefit, is identifying the best laboratory models to faithfully recapitulate the disease. Several cell- and mouse-based approaches were described.
Included in this morning session was Andrew Aguirre, MD, PhD, recipient of the 2013 Fellowship Award funded in memory of Samuel Stroum. Dr. Aguirre explained his approach to systematically delete genes in order to determine their relevance and potential to be targeted in pancreatic cancer.
Dr. Aguirre pointed out that our grant was the first he'd received, and the funding allowed him to conduct these important experiments. Further, through events organized by us, Dr. Aguirre met and established a collaboration with fellow grantee Peter Espenshade, PhD. Fostering teamwork and collaboration is a key mission of our Community for Progress program, and this story represents an example of the program's success.
The next session at the conference focused on heterogeneity of pancreatic cancer – ways in which one patient's disease can be significantly different from another. This is particularly important when considering the design of clinical trials and efforts toward personalized medicine, since evidence has shown that a one-size-fits-all approach has been unsuccessful in the management of pancreatic cancer.
Over lunch, researchers presented additional results from their labs on posters. In a more intimate setting than the large talks, poster sessions allow conversations about data generated, suggestions for next steps and opportunities to build collaborations.
The final session of the day discussed mechanisms of pancreatic cancer progression and metastasis, or spread to other parts of the body. The all-star lineup of speakers included several current and past recipients of grants from our organization and members of our Scientific and Medical Advisory Board (SMAB).
Dafna Bar-Sagi, PhD, a three-time grantee and SMAB member, described the work funded by her 2014 Innovative Grant, which analyzes differences between tumors that arise in the head or tail of the pancreas. Interestingly, her and others' findings have demonstrated that tumors in the head of the pancreas are much more common, have a significantly higher rate of metastasis and show a worse prognosis. Dr. Bar-Sagi presented evidence that the difference between outcomes of tumors arising in the head vs. tail of the pancreas depended on the microenvironment surrounding the tumor and the presence of inflammatory and immune-based cells.
Sunday morning kicked off with a captivating session on immunotherapy, or efforts to dispatch the patient's own immune system to fight off his or her pancreatic tumor.
Career Development Award recipient from 2014, David DeNardo, PhD, gave a particularly compelling talk about a strategy to block the activity of a protein called focal adhesion kinase (FAK). His data suggest that FAK plays a role in the recruitment of immunosuppressive cells to the tumor – cells that protect the tumor from an immune response. Blocking FAK led to marked decreases in the presence of immunosuppressive cells surrounding the tumor, leaving the cancer cells vulnerable to immune attack.
Encouragingly, clinical trials are being launched to test inhibition of FAK in combination with chemotherapy and other immunotherapies in pancreatic cancer patients.
Dr. DeNardo commented that his receipt of a grant from us allowed him to shift his lab's focus so that most of his personnel and resources are now devoted to the study of pancreatic cancer.
The final session on Sunday featured short talks by oncologist Allyson Ocean, MD, two-time grant recipient Jonathan Brody, PhD, and Lynn Matrisian, PhD, MBA, our chief research officer, discussing the big picture of the disease. After all of the speakers presented, the floor was opened to comments and questions for the panel and for people to share reactions to the meeting overall.
It quickly became evident that attendees felt a sense of optimism that scientific findings presented at the conference carry the potential to improve outcomes for pancreatic cancer patients. As Lynn pointed out in her remarks, "Our goal to double pancreatic cancer survival by 2020 brings a sense of purpose to all of us – and a sense of urgency."
We were proud to serve as a lead supporter of this greatly important meeting that brought together nearly 450 pancreatic cancer researchers from all around the world. We will continue to work closely with the scientific and clinical research communities, other advocacy groups, federal agencies and, most importantly, patients, to Wage Hope in the fight against pancreatic cancer.