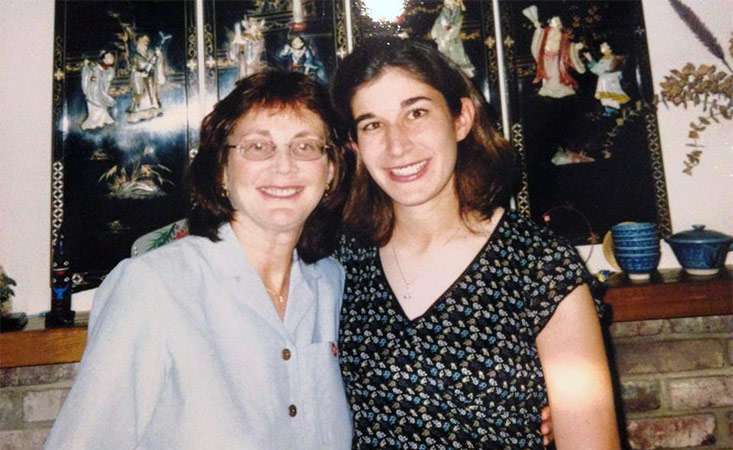 Editor's note: Our "It Starts with Someone" series chronicles all kinds of Pancreatic Cancer Action Network (PanCAN) supporters – volunteers, survivors, caregivers, advocates, researchers – and describes the "someone" who has impacted their efforts in the fight against pancreatic cancer. This week's "someone" highlights PanCAN employee Allison Rosenzweig, PhD, the senior manager of scientific and clinical communications, whose day-to-day job is an opportunity to honor her mother's legacy and fight for patients with the deadliest cancers.
When Allison Rosenzweig, PhD, joined the Pancreatic Cancer Action Network (PanCAN) in 2010, she didn't expect she would become the organization's go-to person for scientific and clinical communications. She was simply searching for a position that would allow her to use her education in cancer research and her love for storytelling – an unlikely combination among other PhD graduates.
"I was one of the rare grad students who enjoyed writing their dissertation," said Rosenzweig, who earned her PhD in molecular and cellular biology at the University of Michigan. "I liked storytelling and describing how my work fit in with the larger cancer picture."
Equally competent using her left brain as her right brain, Rosenzweig is a perfect blend of her parents. Her father is a retired PhD physicist who worked in the aerospace industry for 30 years. Her mother had a master's degree in health and physical education but switched careers later in life to serve as an English teacher, specializing in teaching English as a Second Language (ESL) classes for adults.
"I was fascinated by my dad's projects and wanted to learn more," Rosenzweig said. "My mom loved the English language, grammar, etc., and so do I."
And though her mother loved words, she never took a particular interest in learning about the science of the aerospace industry. Her lack of zeal for scientific communications only fueled Rosenzweig's passion.
"When writing my dissertation, I considered my mom one of my biggest challenges. I wanted to make my work interesting to her," she said.
In fact, most of what Rosenzweig does at PanCAN is in her mother's honor – while completing her undergraduate degree at the University of California, San Diego (UCSD), Rosenzweig learned that her mother had ovarian cancer.
This disease, like pancreatic, is known as a "recalcitrant" cancer, meaning it has a five-year survival rate lower than 50 percent. And though her mother fought ovarian cancer for seven years, it eventually took her life when Rosenzweig was finishing her doctorate degree.
"Among the reasons I was drawn to PanCAN were because both ovarian and pancreatic cancers are challenging and both are often diagnosed in late stages," Rosenzweig said. "I feel fortunate to have had my mom for more than seven years after her diagnosis, although losing her when I was 28 was still devastating. It breaks my heart that she only met one of her four grandchildren, and neither of my two kids nor my husband."
In each piece she writes, the thoughtfulness, attention to detail and commitment to explaining science so that it's compelling and tangible for lay audiences is apparent. PanCAN colleagues and the broader research community have come to rely on her as the go-to resource for all things pancreatic cancer.
In fact, once a month Rosenzweig leads an "Ask Allison" series for PanCAN staff interested in learning more about the latest in cancer research – topics range from cancer immunotherapy to precision medicine and genomic screening. And as her Twitter following continues to expand, so do outside opportunities to raise awareness and visibility for PanCAN.
In early August, she will be a panel speaker at a liquid biopsy conference, where she will discuss the urgent need for improved early detection strategies for pancreatic and ovarian cancers.
"I'm excited to speak about my role and roles of other PanCAN scientists," Rosenzweig said. "I'm not sure the nonprofit sector is a path many PhDs consider, but it's a wonderful opportunity to use your education and knowledge in a broad and meaningful way."