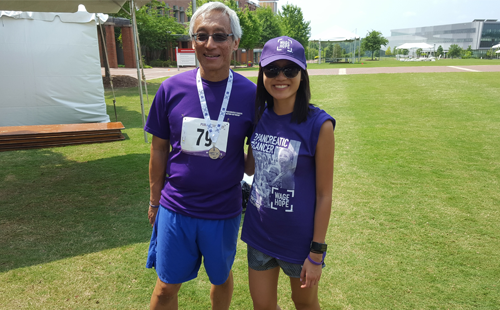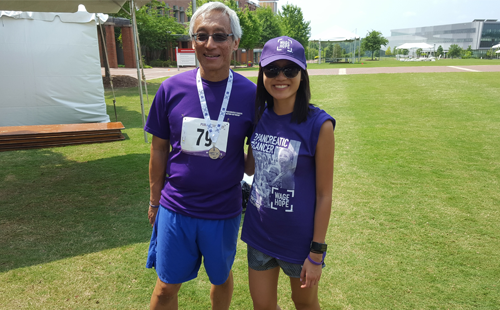 It's not every day that you get to hear from a Pancreatic Cancer Action Network research grantee and a Pancreatic Cancer Action Network employee – who are relatives! We interviewed Channing Der, PhD, a pancreatic cancer researcher at University of North Carolina at Chapel Hill and two-time grant recipient and member of our Scientific and Medical Advisory Board, and his niece, Marisa Jung, a development associate at PanCAN.
Though fighting pancreatic cancer in different ways, both are passionate about making a difference for patients and are determined to raise the profile of pancreatic cancer. They're each other's "Someone" and both find inspiration in their work.
Dr. Der, what inspired you to study pancreatic cancer?
Dr. Der: I was involved in the initial discovery of KRAS mutations in cancer, back in the 1980s. And then in 2008, a cancer genome sequencing study provided the first genetic profile of pancreatic cancer and verified that mutation of the KRAS gene is the key genetic alteration and is found in virtually all pancreatic cancers.
However, it wasn't until 2012, when I received a research grant from the Pancreatic Cancer Action Network that my focus really began to emphasize pancreatic cancer. The PanCAN Scientific Meeting and participating in the 6th Annual Pancreatic Cancer Research Advocacy Day in Washington D.C. (in 2012) changed my perspective.
Getting to know survivors and hearing from families who lost a loved one to this cancer inspired me to dedicate our research to pancreatic cancer. Today, our research is focused primarily on pancreatic cancer, with the goal of finding better therapies for patients.
Marisa, what inspired you to join the fight against pancreatic cancer?
Marisa: Although I haven't been directly affected by pancreatic cancer, some of my family members have been diagnosed with other cancers. It was difficult to see them suffer as they went through treatment. In learning about my uncle's stories and research, I've learned how devastating pancreatic cancer is, and I knew I had to do more.
Dr. Der, can you briefly describe the research you are conducting?
Dr. Der: Our research is focused on finding therapies to "correct" mutations in the KRAS gene. While research studies show that getting rid of KRAS in experiments in the lab can dramatically shrink pancreatic tumors, it has been a far greater challenge to develop anti-KRAS drugs that will be effective clinically. We're taking several approaches to develop anti-KRAS therapies and are pleased that some of these strategies are now being evaluated in pancreatic cancer clinical trials.   
Marisa, what are you looking to accomplish in your role in the Development Department at the Pancreatic Cancer Action Network?
Marisa: Since working here, I've been able to connect with survivors, donors and dedicated individuals from across the country. My goal is to continue forming and strengthening those relationships, so together we can fight the disease on all fronts.
As a researcher, what was it like to attend PurpleStride Raleigh-Durham and see pancreatic cancer survivors? How was it attending with Marisa?
Dr. Der: Pancreatic cancer survivors and their families at PurpleStride provide me with my greatest motivation for our research. I'm amazed by their fierce determination to make a difference and honored by their support of research.
It's wonderful to have family members share my passion for supporting PanCAN. Marisa had previously heard about my work with the organization and my lab of dedicated young researchers. At PurpleStride, she was able to see our dedication firsthand, as our UNC Running RAScals team raised nearly $13,000. When people who want to get involved reach out to me, I encourage them to connect with the organization and proudly connect them with Marisa.
Marisa, what about your uncle's work inspires you? What did you enjoy most about attending PurpleStride with your uncle? 
Marisa: My uncle's research is inspiring and gives hope to the pancreatic cancer community. He's also done tremendous work outside the lab.
Attending PurpleStride with my uncle was a great opportunity for me to meet his colleagues and hear their stories. Seeing his team interact with the participants at PurpleStride made me realize how influential his research is on the close-knit community.
Are you inspired by Dr. Der and Marisa? Check out how you can be a part of a community that is committed to end pancreatic cancer by registering for PurpleStride.