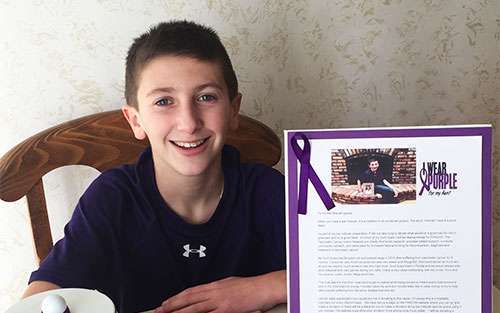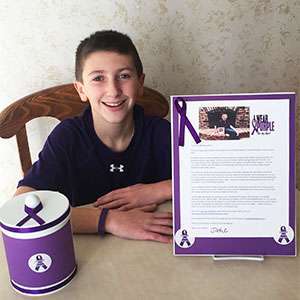 As Jake Singer prepares for his bar mitzvah, his Aunt Susie is never far from his thoughts. Jake lost his beloved aunt to pancreatic cancer in 2015, and is now honoring her through his mitzvah project.
"The loss was the first time I was old enough to realize what losing someone meant," Jake said. He knew that for his mitzvah, he wanted to raise money for the Pancreatic Cancer Action Network with his own Wage Hope My Way page. A mitzvah ("good deed") project is a traditional part of a bar mitzvah.
Jake's Aunt Susie and her husband Vinny lived in Florida, very close to her daughter Loren, her grandchildren and Jake's cousins Andie, Maya and Evan. Visits were full of pool volleyball and card games – and a little friendly shoe competition between Jake and his aunt. "She loved shoes as much as I do," he remembers, "and we used to count to see who had more."
During Susie's treatment, she and her husband Vinny received support from PanCAN Patient Services in their search for clinical trials. At her passing, Vinny asked that donations be made in Susie's name to the Pancreatic Cancer Action Network, and Jake knew then exactly what his mitzvah project would be. At that time, Jake also put on a purple bracelet in support of pancreatic cancer awareness, and he still wears it to this day.
Jake will also be donating a portion of his own bar mitzvah money to the Pancreatic Cancer Action Network. "I couldn't save my aunt," Jake said, "but I would really like to raise money to try to help other people suffering from the same disease she did."