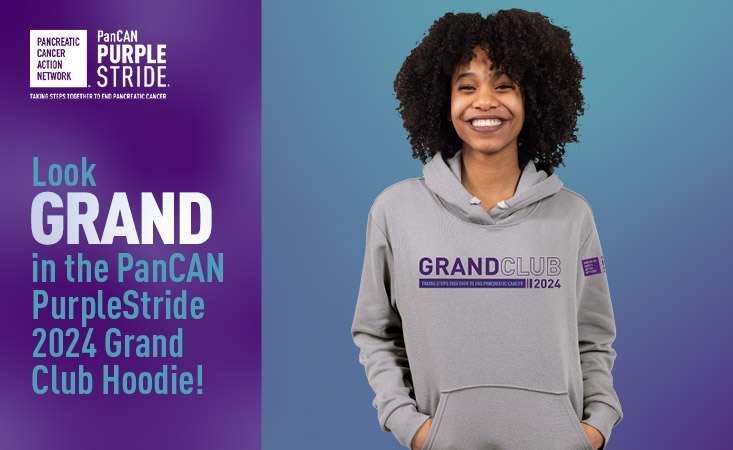 Taking steps to end pancreatic cancer at PanCAN PurpleStride on Saturday, April 27, 2024? Join the club – the PanCAN PurpleStride Grand Club!
You can become a Grand Club member by registering for PurpleStride and raising $1,000 or more for your local event. And since membership has its privileges, you'll earn the exclusive PurpleStride 2024 Grand Club hoodie.
Wear your hoodie with pride because it shows you're dedicated to raising funds and awareness at the ultimate walk to end pancreatic cancer. Because the best privilege of all is knowing that by becoming a member, you're furthering our collective mission to take bold action to improve the lives of everyone impacted by pancreatic cancer by advancing scientific research, building community, sharing knowledge, and advocating for patients.
In fact, $1,000 can support one of our research grantees' work for seven weeks! You have the power to make a huge impact on behalf of everyone affected by this disease – and we've made doing so easy for you. Just follow these simple steps to help reach your Grand Club fundraising goal:
If you haven't yet, register for PanCAN PurpleStride – it's free!
Log in to your PanCAN PurpleStride Dashboard – your one-stop shop for all your fundraising needs including pre-written email messages.
Set your fundraising goal to a minimum of $1,000.
Click "Send Fundraising Messages to Family and Friends."
Choose the "Help me reach $1k/join Grand Club" email template, customize it, and send to family and friends!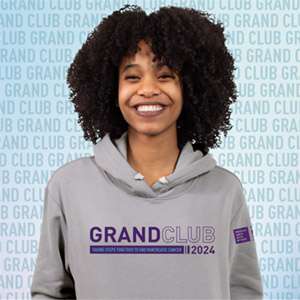 The sooner you start fundraising, the better. The funds you raise now support critical programs like PanCAN Patient Services, which provides free, personalized support to patients and their families.
Earning a Grand Club hoodie isn't the only perk that comes with fundraising. You'll also earn the official PanCAN PurpleStride 2024 T-shirt when you raise your first $50. Want to learn more about other incentives? Check out our Event Incentives & Deadlines page.
We know you're going to look just GRAND in your Grand Club hoodie at PanCAN PurpleStride, happening on Saturday, April 27, 2024, in a community near you. No in-person PurpleStride event in your area? No problem! You can take steps from wherever and however you'd like through PanCAN PurpleStride USA!
Register now
for PanCAN PurpleStride and start your fundraising today!