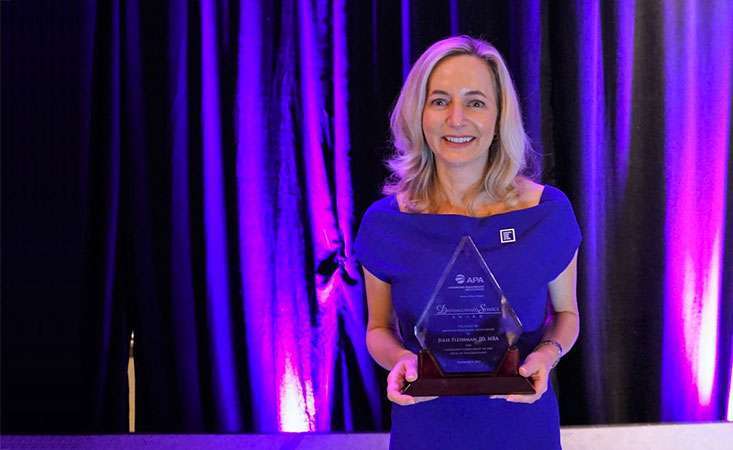 At a ceremony last night, Julie Fleshman, JD, MBA, president and CEO of the Pancreatic Cancer Action Network (PanCAN), was honored with the 2017 Distinguished Service Award on behalf of the American Pancreatic Association (APA), presented at their annual meeting. The award, created in 2011, recognizes those who have given their time and talents to the APA and to the field of pancreatic diseases at large.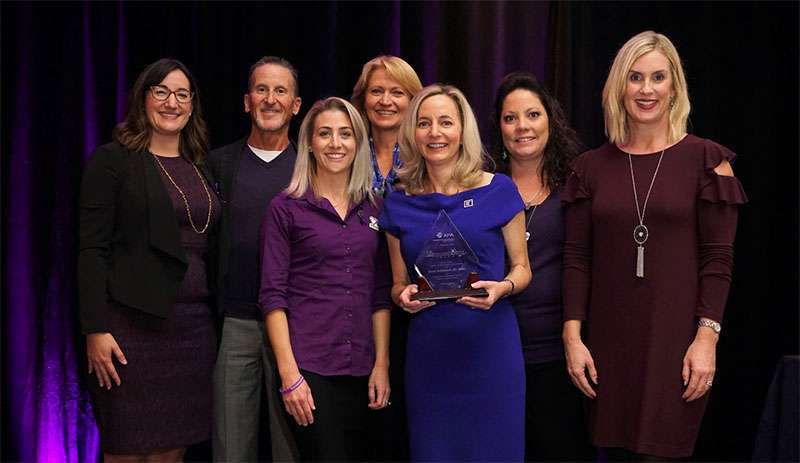 "Given Julie's enormous contributions to increase funding and awareness of pancreatic cancer over many years, it was a very easy choice for our board to select her as this year's recipient," said Miklos Sahin-Toth, MD, PhD, president of the APA. "We are honored to recognize her in this way."
Fleshman became PanCAN's first full-time staff person and its first executive director in April 2000. Having lost her father to pancreatic cancer in 1999, she has made it her passion and commitment to change the course of the disease. In July 2004, the Board of Directors appointed Fleshman president and CEO. Under her leadership, the Pancreatic Cancer Action Network has grown from a staff of one with revenues of $228,000 to a staff of over 140 with a budget of more than $38 million.
"I am deeply humbled to be recognized with this award," said Fleshman. "PanCAN is working relentlessly to improve outcomes for patients through innovative research and clinical initiatives, and by partnering with organizations like the APA, the medical and scientific community, and thousands of volunteers and supporters across the nation to accelerate progress."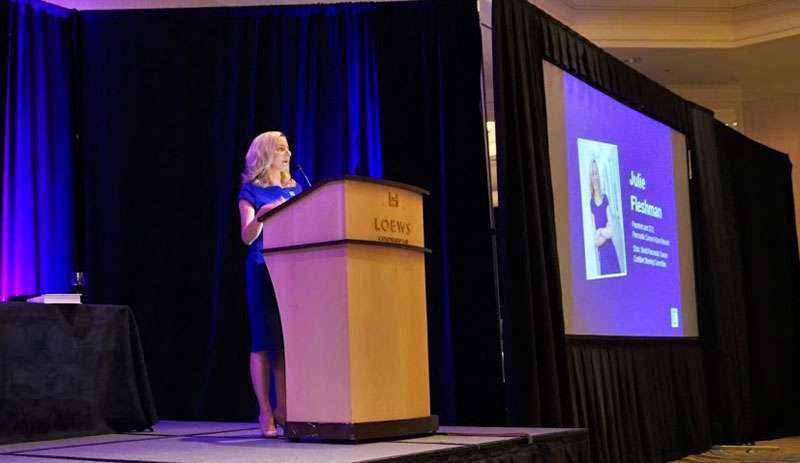 The APA is a membership organization for physicians and researchers interested in diseases of the exocrine pancreas. Their mission is to foster clinical and basic science research needed to cure diseases of the pancreas. Each year at their annual meeting, they bring together gastroenterologists, GI endoscopists, surgeons and basic scientists from all over the world to present and discuss current clinical and laboratory research related to the field.
More than 500 people are in attendance at the conference this year, and several PanCAN volunteers representing PanCAN's San Diego affiliate attended the awards ceremony to congratulate and celebrate with Fleshman.
Learn more about important results gathered from PanCAN's Patient Registry being presented at the APA conference this week as well.