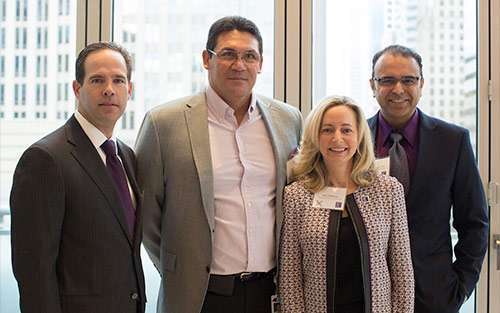 Earlier today, our president and CEO Julie Fleshman, JD, MBA, met with esteemed community leaders at the PurpleStride Charlotte 2017 Leadership Breakfast. The gathering kicked off fundraising for PurpleStride Charlotte and served as a networking opportunity for the Charlotte pancreatic cancer community.
Guests and speakers included Carolina Panthers Head Coach Ron Rivera, one-year survivor Ron Melamed and Charlotte Affiliate honorary PurpleStride Chairs John Martinie, MD, and Tarun Narang, MD.
"Today is a celebration of this community's efforts, and our collective effort, to grow a movement that will change the course of history for pancreatic cancer," said Fleshman.
PurpleStride Charlotte 2016 raised $366,000, igniting the Charlotte community in the fight against the disease with a five-year survival rate of just 9 percent. Ron Rivera served as a special guest in honor of his brother Mickey Rivera, who passed away from pancreatic cancer in July 2015.
PurpleStride events support our critical work in improving patient outcomes and our key initiatives, including Precision Promise, Know Your Tumor and the Patient Registry.
"These services are the foundation from which early detection and even better treatments will stem, thanks to what researchers will learn from them and the patients who participate," Fleshman noted.
The Pancreatic Cancer Action Network has raised more than $76 million and engaged 512,000 individuals through almost 400 PurpleStride events.
"When I think back to the early days of our organization, it's pretty amazing to see how far we have come," added Fleshman, whose father passed away from the disease in 1999, the same year the organization was founded. "We have made significant progress thanks to supporters like those here in the Charlotte community."
"We need to work hard and faster since pancreatic cancer has become a public health crisis," Fleshman stated. "We have to improve outcomes for patients. Our network from around the country can make this happen."
To date, PurpleStride Charlotte has raised more than $1 million dollars with nearly 7,000 participants attending the event since 2012.
"Walk (or run!) with us as we build our movement in this great community and across the country. Join our proud tradition of progress," added Fleshman.
Register today for a PurpleStride near you at purplestride.org. Watch Julie and Ron's Facebook Live interview from earlier today below.