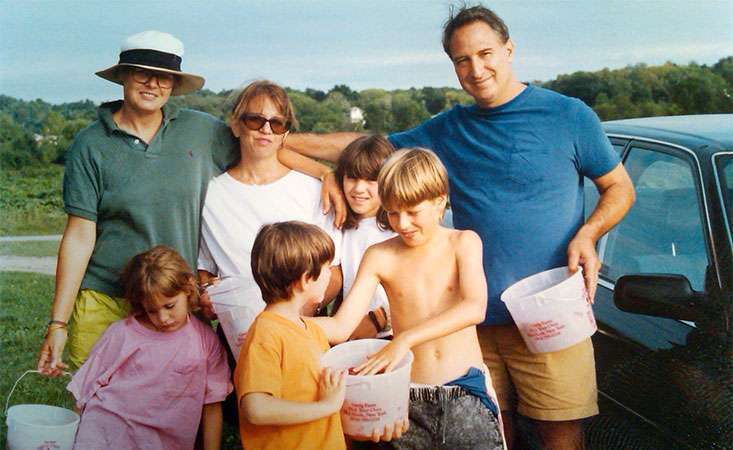 In 2010, the Kenner family was shocked by the loss of husband and father Peter Kenner, shortly after a diagnosis of neuroendocrine pancreatic cancer. With no risk factors or obvious symptoms of the disease, the quickness of the loss was overwhelming.
"We had no family history, my father didn't drink or smoke, he was in good shape," said Nick Kenner, Peter's son. "It completely blindsided us."
To fight back, the Kenner Family Research Fund was born. Founded by Barbara Kenner, PhD, in honor of her husband, the Kenner Family Research Fund is focused on creating tools to identify early detection.
Dr. Kenner is tireless in her leadership and collaboration, active with many patient advocacy organizations. She is a current board member of the Pancreatic Cancer Action Network (PanCAN) and a founding member of the World Pancreatic Cancer Coalition.
The family's drive and commitment are equally evident in the success of Nick Kenner. Founder and CEO of Just Salad, dining devoted to health, affordability and sustainability, Kenner said, "We have a vision of becoming the solution to everyday healthy eating in the U.S. and then the world."
For instance, Just Salad pioneered the reusable bowl program for its customers, the first of its kind in the fast-casual setting. And with more than 30 locations in the United States and abroad, Kenner seems well on the way to fulfilling his vision.
Nick Kenner's vision includes PanCAN, too. "I wanted to contribute to the cause. Just Salad serves hundreds of thousands of customers every month and so many care about making a difference, not just in healthy food or sustainability, but in healthy living overall."
As part of Pancreatic Cancer Awareness month, Just Salad will donate 10 percent of sales of the Healthy Harvest Signature Salad sold at Just Salad locations from Nov. 1 through Nov. 30 to PanCAN.
Additionally, Just Salad will drive donations through pancan.org/justsalad, for anyone not able to visit one of their U.S. locations in New York City, Chicago or Philadelphia.
What is Kenner's goal with the Healthy Harvest Signature Salad promotion for November?
"We hope to get our customers who might not be aware of the disease to take note. It also might enable those who might have been affected by pancreatic cancer to take action, creating more awareness," Kenner said.
"And, it might lead them to donate to PanCAN – with either their time or money. PanCAN is a great partner, having taken a leadership position and collaborative approach in the fight against pancreatic cancer."
How will you
Demand Better
during Pancreatic Cancer Awareness Month?