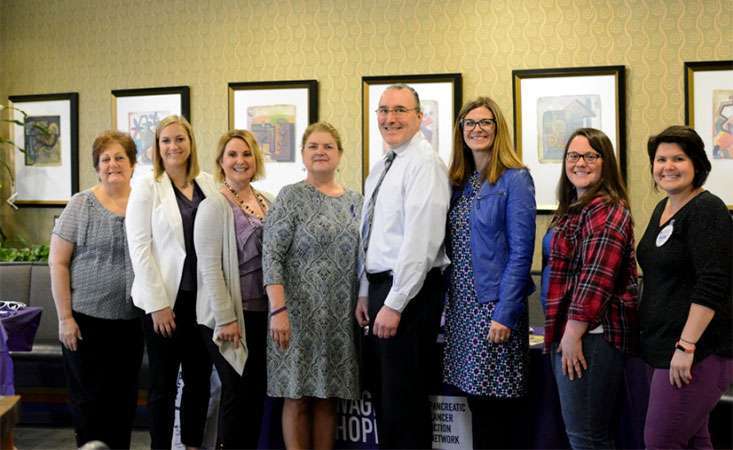 This May, Lindsey McDonald will slip on a purple T-shirt, lace up a pair of tennis shoes and hit the pavement for Kansas City's eighth PurpleStride walk to end pancreatic cancer.
While the 5K is timed for first, second and third place runners, in a way, McDonald and her team – which includes many of her colleagues – have already won the race.
"Community bonds and relationships with coworkers are important," McDonald said. "Those teambuilding relationships are what help you tackle tough problems at work. When you achieve a goal outside of the workplace, it will only help relationships inside the boardroom."
McDonald works at ScriptPro, a Kansas City-area company that provides robotics-enabled systems to optimize retail and ambulatory pharmacy services. ScriptPro just became the first PurpleStride Flagship Team in the country. As part of this partnership, the company dedicates itself to helping the Pancreatic Cancer Action Network (PanCAN) raise money and awareness to fight the world's toughest cancer.
"I'm so proud of my company for stepping up and leading the way," said McDonald, who has worked at ScriptPro for nearly two decades. "Being a part of something bigger is great for our employees. I'm interested to see how it shapes up this year and how it grows in the future."
Doctors diagnosed McDonald's father-in-law with pancreatic cancer in 2009. He passed away from the disease just four months later. That was a driving force for her when she joined PanCAN as a volunteer, starting the first PurpleStride Kansas City event in 2011, and when she became instrumental in making ScriptPro PanCAN's first PurpleStride Flagship Team.
"My father-in-law and his wife – all of their hopes and plans and all the things they waited so long to do were stolen," McDonald explained. "That story is not uncommon when you speak to people who have been affected by pancreatic cancer. I felt like I needed to do more."
For her boss and ScriptPro owner Michael Coughlin, the feeling is mutual. ScriptPro employees, their family members and countless others have been directly affected by pancreatic cancer.  He said that's why ScriptPro is motivated to help find a cure.
"It is wonderful to have the opportunity to lead the way with such a worthwhile effort," Coughlin said. "We are all really proud of the way our company and our people have responded and are making a difference. It reflects the dedication we have in all the things we do at ScriptPro to make the world better."
Read more about ScriptPro becoming the Pancreatic Cancer Action Network's first PurpleStride Flagship Team in the nation.