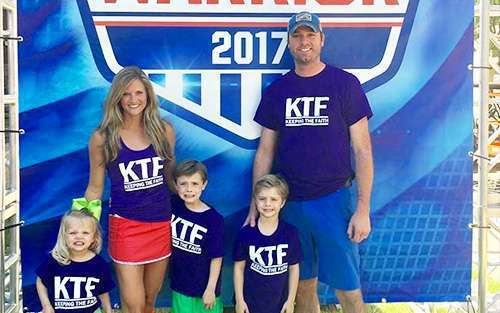 Brandi Monteverde's mother, Becky Evetts, passed away from pancreatic cancer 11 years ago. Brandi made a promise to her mom: make her own health a priority. Brandi knew that keeping this promise would be difficult, but she was determined to keep her word, in honor of her late mother.
Despite many obstacles, Brandi found the strength to keep her promise by "keeping the faith" – a phrase in which her mother found solace, while battling pancreatic cancer.
On Monday, June 19, millions of viewers across the country watched as Brandi competed on NBC's hit show "American Ninja Warrior" in the best shape of her life in tribute to her mom.
Brandi shares her journey to the American Ninja Warrior stage and why 'keeping the faith' is so important in all that she does.
---
My mom Becky Evetts died of pancreatic cancer 11 years ago. In her final months, we had many conversations about my future as a motherless mother. At the time, I was  22 years old and I knew she was going to die before I had children. This was heartbreaking for her, and for me as well. She was able to give me precious advice that is deeply rooted in my heart. I had kids six years after she passed, and my inner voice echoes her words and continue to guide me.
My ninja journey started with one promise I made to my mom in those final months. She wondered if her life would have been different if she had made health and fitness a priority. As a mother, she put herself on the backburner. She wondered, "What if I made myself a priority? Would my life be different?"
She felt like she didn't invest in her own health or strength, so she made me promise her that I would fight to be the strongest and healthiest mother that I could be. I accepted her challenge, knowing how hard it would be to keep that promise.
My mom's saying throughout her sickness was "keeping the faith." She held a coin that had "faith" inscribed on it throughout her journey. She would say, "Chemo can take my hair and cancer may take my life, but no one can take my faith!"
Her devotion to keeping the faith shaped my character so much that I named my daughter Faith Ann – my way to remember the power of keeping the faith.
Three kids later, I discovered the struggle for mothers to stay fit – we are so dang busy! But I had to keep my promise. I wanted to make fitness fun and something I'd look forward to, so I headed to an obstacle course gym in Houston, Texas, called Iron Sports. Since I was a fan of American Ninja Warrior, I wanted to check the place out to see what it was like. That is when my destiny was created!
The more I trained, the better I got and soon I started winning competitions. The owner of the gym took me under his wing and made me a trainer at his gym where I now teach women's classes. Soon, students wanted me to provide private sessions. So, I agreed. Opportunities kept coming, I kept saying "yes," and the doors continued to open. This led to me starting a fitness program at my church and where "keeping the faith" comes back into play.  I named my fitness classes "KTF FITNESS," an acronym for keeping the faith.
Because of that one promise I made to my mom, keeping the faith has now impacted countless women, and I am in the business of changing lives. Because of her, I am now helping women be the strongest and healthiest mothers they can be!
I ran the American Ninja Warrior course to honor of my mom and to motivate women with the understanding that it's not about having the perfect fitness journey. It's about enjoying the journey and making fitness fun, because being the strongest, healthiest mother is the ultimate gift you can give your children.
Every year, my kids and I release balloons on my mom's birthday with birthday cards attached as a way for them to communicate with her. We got to continue the tradition on the American Ninja Warrior stage right before I started my run. This moment made my journey come full circle and represented the power of keeping the faith.