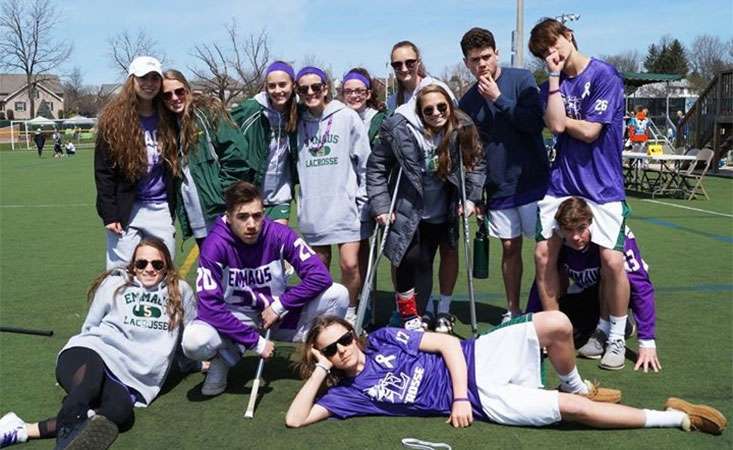 In sports, there are winners and there are losers. Emmaus High School lacrosse players Sabino Basso and Tori Brinkman in Center Valley, Pa., know this firsthand.
But Basso, who plays for the varsity boys' team, and Brinkman, who plays for the varsity girls' team, said there is a way for everyone – even their opponents – to walk on and off the field as victors. Their solution? Host a charity game where proceeds go to a nonprofit organization.
This is the exact scenario Basso and Brinkman found themselves in during a recent charity lacrosse match. The lacrosse players, student body and staff at Emmaus High School spent the entire 2017/2018 school year raising money for a charity game against their rivals, Southern Lehigh High School. Then they donated the proceeds from all the t-shirts they sold, spare change they collected and sponsorships they secured, to the Pancreatic Cancer Action Network (PanCAN).
"My coach always told us we should play hard, but this game was different," said Basso, a 17-year-old junior. "Sure, we're rivals against Southern Lehigh, but there's also a lot of comradery. It's a friendly rivalry because with this game, everyone wins the night. Even if you don't win the game, you're still helping out a great cause."
And that great cause is one that's close to Brinkman's heart.
"It was a good experience for me because my mom died of pancreatic cancer two years ago," said Brinkman, a 15-year-old sophomore. "Everything I did, I did thinking of her. Our team wanted to win because of her, that's all I was thinking about the whole time. She wasn't able to be in the stands, but I know she would have been really proud of me and our whole team."


This is the third year the school has participated in the charity games.
The students used PanCAN's do-it-yourself fundraising platform Wage Hope My Way to collect money and raise funds. Wage Hope My Way supports participants coming up with an idea and creating the type of fundraiser that works well for them. Then they share their fundraising pages with friends and family and ask them to join in the fight against pancreatic cancer.
"I am really proud of them," said Paula Meilinger, one of the organizers of the event. Her son plays on the boys' varsity team. "I am so proud of this group of kids. They do what they have to do to get the ball rolling and raise money. They always ask how they can help or how they can get involved. They are racing the whole way to help. It just made for a meaningful event."
Turn your passion into progress – host an event, donate your birthday, or create a tribute page for a loved one through
Wage Hope My Way
. Your support is vital in the fight against the world's toughest cancer.