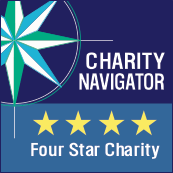 For the 13th consecutive year, the Pancreatic Cancer Action Network has earned the highest four-star rating from Charity Navigator, the leading charity evaluator in the United States. Less than 1 percent of the thousands of charities rated by the organization have achieved this milestone.
"A four-star rating highlights our pledge to conduct all of our organizational activities in an efficient, ethical and open manner," said Julie Fleshman, JD, MBA, president and CEO of the Pancreatic Cancer Action Network. "We are extremely proud to have earned this top rating once again serving the pancreatic cancer community."
The rating is based on the Pancreatic Cancer Action Network's strong financial health and demonstration of accountability and transparency, as evidenced by the detailed metrics available for public viewing on Charity Navigator's website.
The prestigious four-star rating signifies that contributions to the Pancreatic Cancer Action Network will be wisely invested. Donors can rely on the objective, data-driven approach that Charity Navigator takes to assess nonprofits and the comprehensive information it publishes.
"Our core values are 'Customer First, Team, Deliver Excellence, Sparkle Spirit and Accountability'," said Fleshman. "These key principles are reflected in this achievement and, most importantly, in our commitment to double survival by 2020."