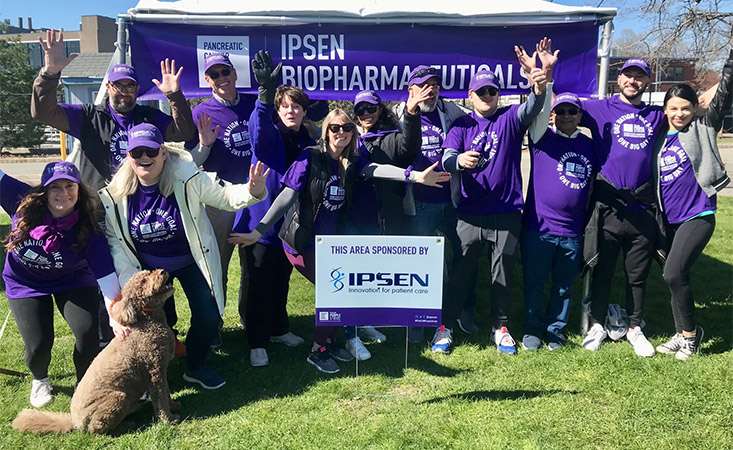 PanCAN PurpleStride One Big Day was the ideal illustration of Ipsen's profound commitment to PanCAN and the pancreatic cancer community.
In addition to their leading National Sponsorship and Premier Sponsorship of PurpleStride Boston, Ipsen fielded a team at 39 out of the 59 PurpleStride events across the country!
"This year marked our fifth year supporting PurpleStride, so employees know all about this annual opportunity," said Debbie McGarity, Senior Director of Patient Advocacy at Ipsen. "Most importantly, it demonstrates our commitment to this vibrant patient community."
"We look forward to PurpleStride each year!" McGarity said. "Our Oncology field team leads our PurpleStride engagement efforts, and we start early getting them engaged and excited. This year, we were all so thrilled to return to in-person events and, for the first time ever, on one nationally synchronized day!"
Ipsen worked with the PanCAN affiliate in Boston to host kick-off events at their Cambridge sites, each featuring a caregiver who had been touched by pancreatic cancer.
"At Ipsen, it's very important to bring the patient and/or caregiver experience forward, so our employees can connect more deeply to our mission when it comes to the patients we serve," McGarity said. "PurpleStride is a meaningful opportunity for Ipsen employees throughout the country to walk side-by-side in support of patients, caregivers, and the greater pancreatic cancer community."
Another highlight of Ipsen's commitment is the rigorous communications plan built around their PurpleStride participation, including social media.
"It's always a fun way for our employees to engage and support PurpleStride. There's nothing quite like being at PurpleStride events to witness the numbers of employees along with their families and friends who don their best purple swag to walk with this patient community," she said.
"We are honored to join forces with PanCAN to help rewrite the course of this devastating disease," McGarity said. "Participating in PurpleStride is one way we do that."
When asked what has driven Ipsen's longtime support of PanCAN, the answer was clear to McGarity.
"Oh, that's easy," she said. "Our drive comes from our deep commitment to support this incredible community."