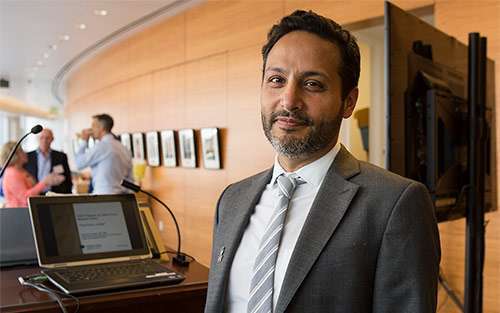 Dr. Andrew E. Hendifar, the medical oncology lead for the gastrointestinal disease research group at Cedars-Sinai Medical Center, champions progress in pancreatic cancer treatment by using our innovative Know Your TumorSM molecular profiling service.
Know Your Tumor provides eligible pancreatic cancer patients and their oncologists with information about the biology of their tumor. Reports can help determine treatments that could improve a patient's condition and might not have been considered otherwise.
Dr. Hendifar has referred more than 60 patients to Know Your Tumor and remains a strong champion of the cutting-edge service. "Know Your Tumor is a very important effort to improve the care provided to pancreatic cancer patients," Dr. Hendifar explains. "We gain an important understanding of tumor biology, which leads to more precise selection of treatments. This is personalized medicine at its best."
Highly regarded in both the research and clinical fields, Dr. Hendifar has been named a "Super Doctor" and a "Top Doctor." Still, when he refers a patient to Know Your Tumor, he feels like he joins "an all-star team with great resources dedicated to helping each particular patient."
Every patient is unique, and so are their treatment options. Know Your Tumor can provide information to help patients and their oncologists make the best treatment decisions for them. For more information or to enroll, contact PanCAN Patient Services by calling toll-free at 877-412-8735 or by completing our contact form.