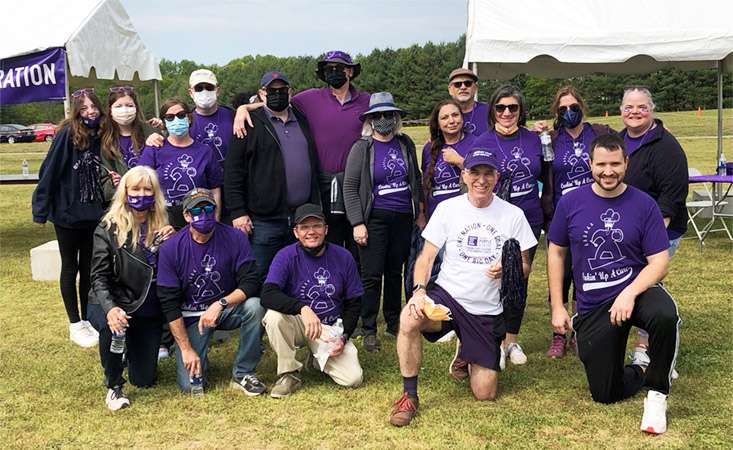 Just six weeks after having his pancreas, spleen and 27 lymph nodes removed, pancreatic cancer survivor Kit Rudd plans to join friends and family for PanCAN Purple Stride on April 29 in his hometown of Richmond, Virginia.  Last year, his Team Cookin' Up a Cure was the top fundraising team for the event. This year, they've already met and exceeded their $12,500 goal and then some.
The day is special for him for many reasons.  His mother-in-law, Dorothy Peade, died from pancreatic cancer in 2013. He first began raising funds for the cause with his wife, Sharon, in her honor. Then, in March of 2022, he was diagnosed with the disease.
Like so many, Kit experienced only vague symptoms – for him, a pain deep in his abdomen that slowly worsened over time.
"It just so happened I had a doctor's appointment with my primary care physician for a six-month check up," he said. "I went and I almost didn't even say anything because it was so mild."
His doctor initially suggested waiting to see if he felt better. But as the weeks went on, the pain got worse and interfered with his sleep. Then came some issues with digestion. A referral to a gastroenterologist suspected gastric ulcer as the cause of the pain, although he ordered a CT scan to rule out anything else.
In the meantime, Kit continued training for his first ever gravel bike race – something he had been doing for months. On the day of the race, he woke up with pain but showed up at the start line ready to give it his all. It was a good day for him.
"I got out there and just absolutely crushed my personal goals, which was great," he said. "I came home the next day and was so excited -- I signed up for a half dozen events. That was a Monday. Tuesday, I went in for my CT scan."
The scan revealed a mass on his pancreas. Then came a flurry of consultations and decisions to be made. He started treatment with six months on a chemotherapy called FOLFIRINOX with a goal to decrease the size of the tumor to allow for surgery. Then subsequent scans revealed potential metastasis to his liver. He sought a second opinion – not only did this provide invaluable information about the potential metastasis and his current course of treatment, it also led him to genetic testing. He contacted PanCAN and enrolled in the Know Your Tumor® precision medicine service.
A biopsy of his liver provided the tissue necessary for the testing. Although it didn't reveal any actionable mutations right now, the information stands to be helpful in the future.
"I was so impressed by the KYT process," he said. "My counselor, Lizz, walked me through the steps of getting my previously completed genetic testing incorporated into KYT and coordinated with my medical team to get my liver biopsy sample submitted for additional testing.  Many thanks to Lizz and PanCAN for making the process as quick and easy!"
The Value of a Second Opinion
As Kit continued with treatment, he sought out more opinions from physicians at a range of medical centers. This led to additional treatment options, including a clinical trial focused on nutrition led by Faeth Therapeutics. Thanks to a third opinion, he found another trial for stage IV patients with pancreatic cancer and liver metastasis. For the latter, when he went through the evaluation process, he got some good – and surprising – news. He had no evidence of cancer in his liver, likely the result of his positive response to FOLFIRINOX.
Although he had to be removed from the trial since he no longer met the inclusion criteria, it meant that he became a potential candidate for a distal pancreatectomy, a surgical procedure which involves the removal of the body and tail of the pancreas.  On March 7, at New York Presbyterian/Columbia University Hospital, Kit underwent a distal pancreatectomy as well as a splenectomy (removal of spleen), removal of 27 lymph nodes and ablative radiation to his liver, a procedure that uses highly concentrated radiation on a small part of the body to destroy any potential small tumors or cancer cells.
Now recovering from the intensive procedure and looking forward to PurpleStride, he's eager to share what he has learned. His topline suggestion: Never hesitate to seek out additional information. With a diagnosis as complex as pancreatic cancer, different perspectives can help with decision making.
"Additional opinions are so key because that changed the course of my treatment," he said.
The Power of Community
He has also learned the benefits of connecting with others by sharing his story. The outpouring of support boosted his spirits at critical times – and led to meaningful relationships with fellow survivors. The compassion goes full circle.
"To the extent that you can, share what you're going through and make sure that the people around you know about it," he said. "It has made a tremendous difference to me in my life. Because once I made the 'public service announcement,' the floodgates opened."
He talks with fellow pancreatic cancer survivors regularly and count some as his closest friends. One of their mantras? Focus on what is in your control.
"Every person's an individual and your outcome is impacted zero by statistics," he said. "You make your own path."
Now looking forward to PanCAN PurpleStride 2023, Kit is eager to reconnect with folks he met last year and meet new survivors and family members. Last year, at his first PurpleStride event and newly diagnosed, he remembers the burst of pride at the community coming together. He also remembers the white t-shirts, including his own, worn proudly by survivors. His goal: More of those white shirts in the crowd.
He's determined to make a difference.
"I want to see PanCAN PurpleStride full of white shirts,'" he said. "It's really hard. But we'll get there."
PanCAN recommends consulting with a pancreatic cancer specialist. PanCAN does not recommend or endorse any particular physician or institution mentioned in constituent stories and blog posts.  
Any treatments, including clinical trials, mentioned in this story may not be appropriate or available for all patients. Doctors take many things into account when prescribing treatments including the stage and type of cancer and the overall health of the patient.