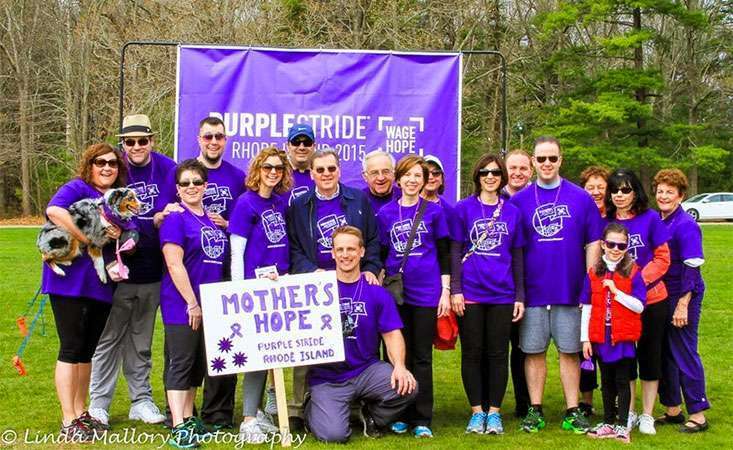 After the loss of their mom, Mother's Day went from being an anticipated yearly celebration to one that sisters Jackie Strybuc and Stefanie Abate began to dread.
"She did everything right," Abate said of her mom, Barbara Paterra. "She was a registered nurse so she knew how important mammograms and colonoscopies were. At the time she was diagnosed, she only had flu symptoms."
Paterra passed away in 2000 at the age of 55. It shook her family and they spent the better part of the next decade mourning her loss. Then in 2011, Strybuc stumbled across an opportunity to turn their pain into action. That year, her family walked its first Pancreatic Cancer Action Network (PanCAN) PurpleStride Rhode Island.
Since then, they've raised more than $35,000 for PurpleStride Rhode Island through their team, Mother's Hope. Not included in that figure is this year's nearly $12,000, an amount higher than their goal of $8,500.
"My mom and dad always gave back," Abate said. "We learned that it was important to contribute to our community at a young age. Since my mom's death, my dad has made it his life's work to be a top fundraiser for PurpleStride. It's his way of giving back and supporting the cause to honor my mom. It's a family affair in that way."
And the family connection doesn't stop with the sisters and their father, John. Strybuc's husband, Jim, is also involved. His mom, Mildred, passed away from pancreatic cancer when he was just a teenager.
"Seeing all these people in a sea of purple rallying for the same cause is inspiring," said Jim Strybuc, who, several years ago, proposed to Strybuc on Mother's Day to help turn the holiday into a happy one. "While our direct connection is our mothers, we do all the walking, fundraising and awareness activities for anyone and everyone touched by pancreatic cancer. It's uplifting."
Team Mother's Hope will walk five kilometers on May 6, the week before Mother's Day, as a way to remember both Barbara and Mildred and the tens of thousands of other mothers who've been diagnosed with pancreatic cancer.
"My mom had a lot of impact in the 55 years she was here," Abate said. "The same is true for Jim's mom, who died at 56. We try to keep that alive in everything we do so people remember them, and to form new memories as a family."
"The loss of a parent is so, so great," said Strybuc. "But we've learned to channel that energy into something far bigger than us."