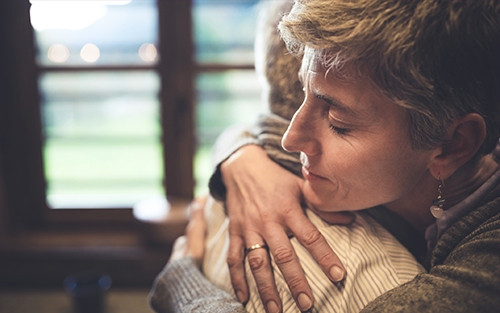 "I'm so sorry I haven't reached out. I just haven't known what to say…"
When someone you care about has been diagnosed with cancer, it can be tough to know how to react, what to do and what to say.
We turned to Nicole Feingold, director of Patient Services at the Pancreatic Cancer Action Network, for advice on how to be there for a loved one who's been diagnosed with cancer and is going through treatment or recovering from surgery. Feingold, who has a master's degree in clinical psychology, said fear is often at play in situations where we don't exactly know what to say or do.
"When someone is diagnosed with cancer, especially, we're faced with our own mortality, and therefore it can be difficult to know how to react," she said.
Her best advice? "Speak from the heart, and be authentic and empathetic."
Here are a few other recommendations:
Be honest and genuine. Try simply saying, "I can't imagine how hard this is," or "I'm so sorry that you're going through this."
Don't always ask how they're feeling. Let them know they can share what they'd like, when they're ready.
Be careful when it comes to offering advice, unless the person asks for it. If they do ask, draw upon personal, relevant experience if it works – for example, "When I went through this, a support group really benefited me. Just something to consider."
If an in-person visit isn't possible, send a card or note when they least expect it to let them know you're thinking of them. Or even better, call them. You can simply say, "I just wanted you to know I'm thinking about you."
Remember, there are no "magic" words that are perfect, will make everything better or solve all their problems. Just speak from the heart.
Above all, be loving and caring. Offering to help out with tasks is, too, a heartfelt response.
"Sometimes people will say, 'Let me know if there's anything I can do,'" Feingold said. "We've probably all said that before, but the truth is, your loved one might not know exactly how you can help or may be too shy to ask."
Offer to do specific tasks like going grocery shopping, driving them to a doctor's appointment, walking the dog, cleaning the house, mowing the lawn or cooking a meal.
One other important recommendation:
"Treat them normally," Feingold said. "This is super critical. When you're dealing with cancer, you don't want people to tiptoe around you. You need the distraction of normalcy."
If you or a loved one is facing pancreatic cancer, our PanCAN Patient Services Case Managers are here to connect you with the support and resources you need. Call us at 877- 272-6226.