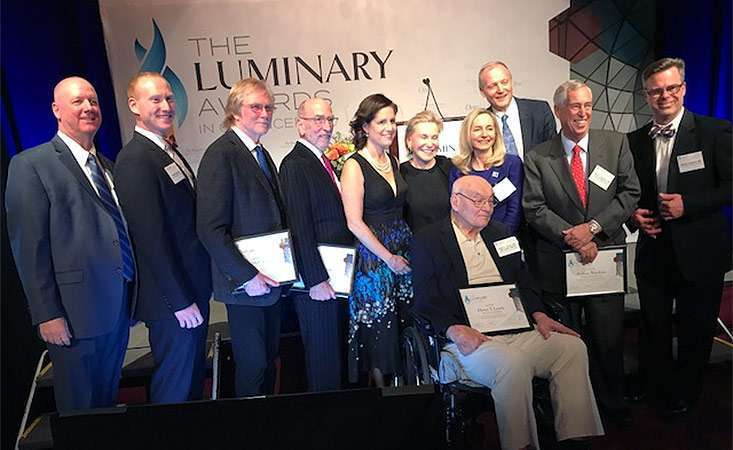 On Dec. 1, OncLive® and The Ruesch Center for the Cure of Gastrointestinal Cancer, hosted the inaugural Luminary Awards in GI Cancer. Julie Fleshman, JD, MBA, PanCAN president and CEO, was honored at this event as well four other prominent figures in the GI community.
Award recipients, which include clinicians, researchers, patients and advocates, were recognized for their time, talent and resources dedicated to improving care for patients and families affected by GI cancers.
"It's a tremendous honor to receive this inaugural award and be part of changing the course of history for pancreatic cancer," said Fleshman. "I am extremely proud to stand alongside my fellow award recipients who are leaders in their field and committed to advancing research and treatment options for GI cancers."
After losing her father to pancreatic cancer in 1999, Fleshman dedicated herself to making a difference in the lives of others facing similar circumstances. Fleshman was hired as the first employee of the Pancreatic Cancer Action Network in 2000 and has grown the organization's revenue from $228,000 in 2000 to $38 million today. Under her leadership, the organization has awarded over $40 million in research grants, provided assistance to more than 154,000 pancreatic cancer patients and their families, as well as launched innovative research and clinical initiatives.
Along with Fleshman, Daniel G. Haller, MD, FACP, FRCP, Henry T. Lynch, MD, MS, FACP, FAACR, Frank McCormick, PhD, FRS, and Andrew L. Warshaw, MD, FACS, FRCSED, were awarded at the event.
"Each of these winners helps propel the field of GI cancer through their commitment and groundbreaking contributions to treatment, research and advocacy," said John L. Marshall, MD, director of the Ruesch Center for the Cure of Gastrointestinal Cancers. "We are honored to recognize these five individuals for their outstanding work and passion for improving the lives of those impacted by GI cancer."