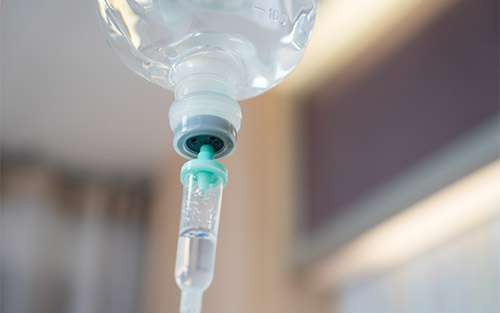 Today, the U.S. Food & Drug Administration (FDA) approved Lutathera® (lutetium-177 (177Lu)-Dotatate) for the treatment of gastroenteropancreatic neuroendocrine tumors (GEP-NETs), including pancreatic neuroendocrine tumors (PNETs), that express somatostatin receptors.
PNETs make up about 6 percent of all pancreatic cancer diagnoses, and the majority of cases express somatostatin receptors. It's important to note that Lutathera has not been approved for, nor shown to be effective in, patients with the more common form of pancreatic cancer, adenocarcinoma.
Lutathera is part of a category of drugs known as somatostatin analogs. Somatostatin is a hormone that binds to and activates somatostatin receptors, impacting the production and release of other hormones. Somatostatin analogs trick the cancer cells by being able to bind to the receptors and alter other hormone levels, which can alleviate some of the symptoms of the disease and potentially slow the cancer cells' growth. Two somatostatin analogs (octreotide and lanreotide) have previously been approved as part of PNET patients' treatment regimen.
Beyond being a somatostatin analog, Lutathera is also a Peptide Receptor Radionuclide Therapy (PRRT).
"PRRT drugs act by delivering radioactivity directly to the cancer cells, enhancing the cell-killing ability of the treatment," said Cassadie Moravek, associate director of clinical initiatives at the Pancreatic Cancer Action Network (PanCAN). "In fact, patients who were treated with Lutathera in the clinical trial had a 79 percent reduction in risk of disease progression or death, as compared to patients treated with octreotide alone."
Every treatment available today was approved through a clinical trial. PanCAN strongly recommends clinical trials at diagnosis and during every treatment decision.
"We are pleased that another treatment option is now available to improve survival for PNET patients," added Moravek. "We are also grateful to everyone involved in the development and approval of this drug, including – most importantly – the patients who participated in the clinical trials."
To learn more about Lutathera or other treatment options available for PNET or other pancreatic cancer patients, or for a personalized clinical trials search, please contact PanCAN Patient Services.