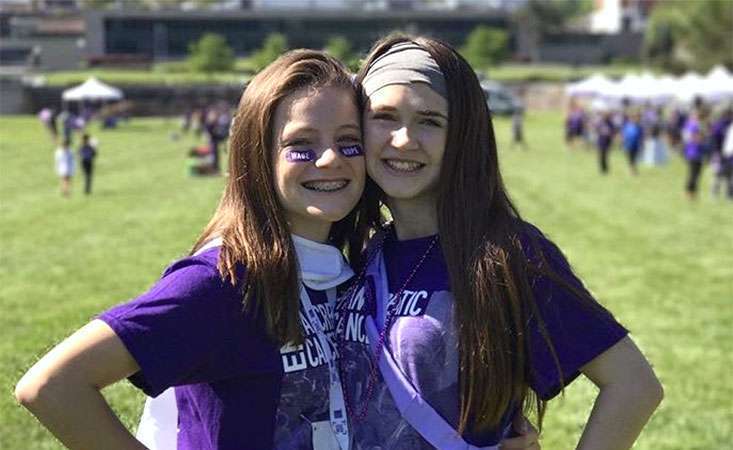 While many teens visit Washington, D.C., during their spring break school trip, 13-year-old Dylan Dedrickson and 16-year-old Maddy McDonald are coming for a higher purpose. They plan to meet with their congressional representatives about an issue close to their hearts: funding for pancreatic cancer research. Both girls lost a grandparent to the deadly disease. And they now share a special bond, thanks to a friendship their mothers developed when they became involved in the Pancreatic Cancer Action Network (PanCAN).
This June, both will travel to Washington, D.C., to attend their first National Pancreatic Cancer Advocacy Day. They will join forces with survivors, caregivers and advocates to urge members of Congress to support increased funding opportunities for cancer research, including the creation of a separate research program for pancreatic cancer within the Department of Defense. PanCAN recently spoke with Dylan and Maddy about their grandparents, friendship and message of hope for others diagnosed with pancreatic cancer.
PanCAN: What grade(s) are you in? What are your hobbies or favorite areas of study?
Dylan: I'm in eighth grade. My favorite hobbies are cheerleading and volunteering for PurpleStride and at animal shelters, and my favorite subject is English.
Maddy: I'm a sophomore. My favorite hobbies are cheerleading and volunteering for PurpleStride and serving food to the homeless at the City Union Mission.
PanCAN: Could you please tell me about your relationship with the grandparent you lost to pancreatic cancer? Do you have any special memories you can share?
Dylan: I lost my nana three years ago to pancreatic cancer. I was very close with her, and loved shopping, getting our nails done and playing cards with her. One of my favorite memories with her is spending Christmas Eve at her house and always trying to find her special Rudolph ornament on her tree.
Maddy: I lost my papa to pancreatic cancer when I was six years old. I always remember my grandparents taking my brother and me on train trips from Kansas City to Iowa. My favorite memory with my grandpa is having a tea party with him on my second birthday.
PanCAN: How long have you two known each other? How did you meet?
Maddy: We met nine years ago when our brothers played baseball together. Our friendship has grown stronger over the years through our love of cheerleading and our families being such close friends.
Dylan: We can't wait to cheer together at our high school this fall!
PanCAN: Your mothers are both very involved with PanCAN's Kansas City Affiliate. How does that make you feel?
Dylan: I love that my mom comes to Washington D.C., each year for Advocacy Day to speak with Congress. It makes me want to get more involved.
Maddy: I'm always so proud to see all that my mom does at PurpleStride as the chair for the past nine years. It's fun to go and be involved that morning and to see so many of our friends there.
PanCAN: Why it is important that you go to Advocacy Day in Washington, D.C.? Who do you plan to meet with?
Dylan: It's important to me to come to Advocacy Day to bring awareness to pancreatic cancer. I'm looking forward to meeting with senators and congressmen from Kansas and plan to ask them to include pancreatic cancer in cancer research funding.
Maddy: It's important to me to come to Advocacy Day to help people struggling with pancreatic cancer have their voices be heard. We plan to meet with Senator Moran, Senator Roberts and Congresswoman Sharice Davids.
PanCAN: What would you like to tell kids or teens who may have lost a loved one to pancreatic cancer or know someone close to them who may have been recently diagnosed?
Dylan: I would tell them to have hope because hopefully all of our efforts in increasing cancer research funding will make a difference. And I would tell them to get involved to meet others in our community.
PanCAN: Anything else you would like to add?
Maddy: Make sure to reach out to PanCAN to find out about clinical trials and other resources available through PanCAN Patient Services.
Dylan: Thank you all for all you are doing to help change the outcomes for pancreatic cancer patients!