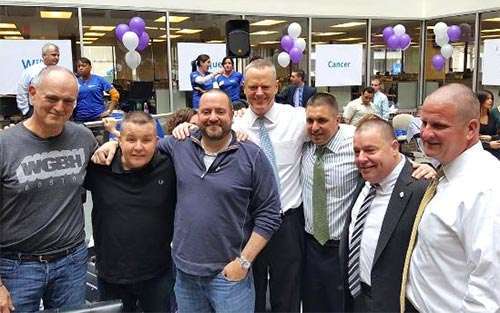 Boston is abuzz this week, not only with the Boston Marathon days away, but also with thousands of buzz cuts supporting pancreatic cancer research! On April 13, Massachusetts Governor Charlie Baker and Boston Red Sox President Sam Kennedy joined Rob Hale, CEO of Granite Telecommunications, and over a thousand Granite employees at the company's fourth annual "Saving by Shaving" event. In total, the event raised $5 million for pancreatic cancer research at Dana Farber Cancer Institute.
Congrats Rob Hale and Granite Telc. Saving by Shaving raised $5 Mil for Cancer Research Dana Farber https://t.co/pfemdEVnJ9 #SavingByShaving

— City of Quincy (@CityofQuincy) April 13, 2017
Pancreatic cancer is one of the nation's deadliest major cancers with a five-year survival rate of just 9 percent. The disease now kills more people than breast cancer, recently becoming the third leading cause of cancer-related death in the United States and projected to become the second-leading cancer killer around 2020.
Via @PatriotLedger: "Hair falls as fundraiser in Quincy raises over $5 million." #SavingByShaving https://t.co/SFO3JIz1Ph pic.twitter.com/LLL3OMDaFR

— Charlie Baker (@MassGovernor) April 13, 2017
Like the "Saving by Shaving" event, the Pancreatic Cancer Action Network is a proud supporter of pancreatic cancer research at Dana Farber. One recent project funded by the Pancreatic Cancer Action Network is a unique collaboration between Dana Farber's Brian Wolpin, MD, MPH, and University of Rochester's David Linehan, MD. The co-Principal Investigators received The Shirley Sadoff – Pancreatic Cancer Action Network Research Acceleration Network-2 Grant in 2016, to accelerate a large-scale clinical trial bringing a new immunotherapy to patients with pancreatic cancer and testing how each and every patient responds to better predict which patients might benefit the most from this novel treatment.
A Huge, Thank you to everyone who joined us today and helped us get to $5M. #SavingbyShaving https://t.co/kv3tYfFvIa

— Granite Telecom (@GraniteTelecom) April 13, 2017
"From the labs of Dana Farber, to 'Saving by Shaving' and PurpleStride, the walk to end pancreatic cancer that will take over the Boston Common this fall, the Boston community's passion and dedication to pancreatic cancer is exemplary," says Julie Fleshman, JD, MBA, president and CEO of the Pancreatic Cancer Action Network. "Special thanks to Governor Baker and Rob Hale for continuing to be such strong leaders in this fight. We are grateful to Wage Hope with committed individuals in Boston and across our nation."
@MassGovernor thank you for declaring today #WorldPancreaticCancerDay for MA! #WageHope #inittogether pic.twitter.com/BrP595kFZA

— PanCAN -- Boston (@PanCANBoston) November 17, 2016
Want to make a difference? Get involved with the Pancreatic Cancer Action Network in the Boston area and beyond!
Upcoming Boston events:
Understanding Pancreatic Cancer Educational Seminar on May 11, 2017 featuring Dana Farber's Dr. Wolpin, who will speak about research advancements along with experts on nutrition and treatment
PurpleStride Boston on November 5, 2017 on the Boston Common
Pancreatic Cancer Action Network's Boston Affiliate April Meeting – April 29, 2017
Find the latest advocacy and awareness events in your area today.