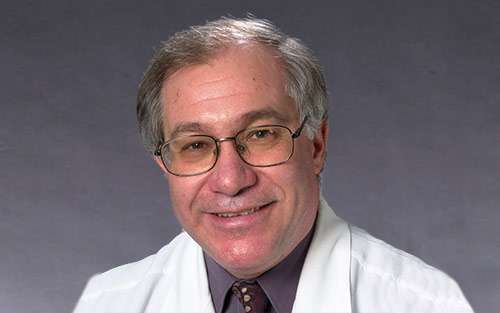 Meet Vincent Picozzi, Jr., MD, director of the pancreaticobiliary program at the Floyd & Delores Jones Cancer Institute at Virginia Mason Medical Center. Picozzi is a member of our Scientific & Medical Advisory Board and a principal investigator for one of the sites that make up our initial Precision Promise Clinical Trial Consortium.
Precision Promise is the first large-scale precision medicine trial for patients with pancreatic cancer – a research and clinical trials platform that creates a culture of cooperation and learning among clinicians, researchers and diagnostic and drug developers, and that puts the patient at the center of every decision.
Recently, Picozzi was also named chair of the Clinical Trial Consortium, an important role to foster collaboration across all consortium sites spanning the country. We spoke with him on all things pancreatic cancer – the progress, the challenges and Precision Promise's role in bringing new treatments to patients facing pancreatic cancer.
Dr. Picozzi, did you always know you wanted to be a physician?
Well, I almost became a jazz musician – I played clarinet and saxophone – instead of going to college! But I wasn't quite good enough.
Ultimately, I was drawn to medicine because it allowed me to combine thinking about science and thinking about people.
What got you interested in pancreatic cancer?
With pancreatic cancer, I always say that the disease found me.
When I joined Virginia Mason as a hematologist/oncologist more than 20 years ago, physicians didn't specialize in things like treating gastrointestinal cancers. Everyone received the same basic cancer treatment training – except I was the only one on staff willing to see pancreatic cancer patients.
At the time, there were no drugs to treat the disease.
I quickly got tired of telling people that there wasn't anything I could do for them. So I started designing and running some pancreatic cancer clinical trials – filling a gap in the community and moving toward much-needed progress to improve patient outcomes.
So fast-forward 20 years, what excited you about Precision Promise?
All of us who study and treat pancreatic cancer have been frustrated by the slow pace of progress. When I heard about the model the Pancreatic Cancer Action Network was creating to launch Precision Promise, I felt like this could solve some major problems and accelerate progress.
How is Precision Promise different from other clinical trials?
It's different in all kinds of ways.
Precision Promise is bringing together an unbelievable array of talent, passion and expertise to work together. It's exciting to be a part of this collective effort – I'm constantly learning from my esteemed colleagues and partners.
The prestigious centers that make up the consortium are coming together to not just run a clinical trial, but to streamline how they practice and how they care for patients. Unique partnerships with the drug developers will allow us to provide better design and bring drugs to patients faster.
The molecular profiling that each patient will receive is state-of-the-art – better than anything we've done before in this disease. Utilizing a new way of analyzing the extremely rich data will hopefully enable us to obtain results much more quickly, too.
How did you feel when your institution, Virginia Mason, was chosen as one of the initial Clinical Trial Consortium sites?
I was extremely honored – and also very pleased for my institution and our wonderful team. It was a competitive application process, and we took it very seriously.
What do you bring to the role of chair of the consortium?
I think of myself as the "glue guy." My job will be to make sure that the sites are working efficiently – individually and collectively.

What guiding principles will help you serve in this role?
A lesson I learned early in my medical training was, if you keep the patient close to your heart, you'll never be wrong. So I always try to examine every experience as a patient or their family member would see it.
The great strength of this Precision Promise enterprise is its patient centricity – it's patient-inspired, patient-driven and patient-centric.
If you had to describe Precision Promise in just one word, what would it be?
Astounding.
Thank you, Dr. Picozzi, for your leadership and compassion!