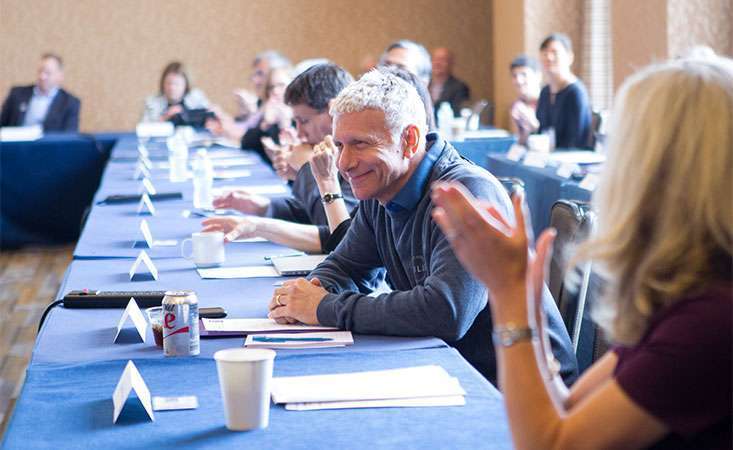 Editor's note: We recently announced Andrew Lowy, MD, as chair of our Scientific and Medical Advisory Board (SMAB). So our community can get to know him better, we asked Lowy about his experience and passion for the pancreatic cancer field, while learning some fun personal facts about him.
Andrew Lowy, MD, always knew he wanted to be a doctor. Even as a child, he never entertained the idea of being an astronaut, athlete or anything else.
But it wasn't until he was in medical school that he discovered his calling.
"I didn't decide on surgery until very late in medical school," Lowy said. "I fell in love with the immediate impact, the beauty of human anatomy and the total patient care that surgeons provide."
Lowy spent his residency and fellowship under his mentors and role models Murray Brennan, MD, FACS, and Doug Evans, MD, who introduced him to pancreatic surgery. Lowy observed that the field was uniquely challenging, but it also "presented so much room to make a difference" for pancreatic cancer patients.
One difference Lowy's made throughout his career is developing programs and teams that unite pancreatic cancer clinicians and scientists across various institutions. He's proud of this work, which encourages more collaboration across the field.
And collaboration is what he enjoys most as a part of the Pancreatic Cancer Action Network's (PanCAN) SMAB, since serving as chair-elect from 2017 to 2018 and today as chair.
Lowy said, "I'm excited to work with such an outstanding group of people, united in a common pursuit, at a time when I feel we are so close to making a major impact for pancreatic cancer patients."
He added, "PanCAN is really an amazing organization in so many ways. The strategic vision of attacking the disease through support of patients, advocacy and research is so unique.
"The organization's willingness to go where no one has gone before is remarkable. PanCAN touches all aspects of the pancreatic cancer field, truly acting as a centerpiece for the community."
Lowy is taking over for immediate past chair, Diane Simeone, MD. "Diane is a tough act to follow; the words that come to mind when I think of Diane are 'fierce' and 'fearless' for her relentless commitment to fighting this disease and doing the right thing," Lowy said.
As for working with the new chair-elect, Margaret Tempero, MD, Lowy commented, "I am so delighted to have Margaret following me as we have become great friends and colleagues through the years. She is an icon in the pancreatic cancer field."
When asked what people would find surprising about him, Lowy admitted, "I was painfully shy when I was younger, and I never thought of myself as having the confidence or personality it would take to be a surgeon. But talk to my patients and colleagues today and they would be pretty shocked to hear that!"
Another thing most people don't know about Lowy is his hidden talent. "I was quite talented at making up silly games to keep my kids entertained when they were younger. They always say I should have patented some of them and maybe I wouldn't have to work so hard!"
Lowy is an inspiration – and true delight – to have on our Scientific and Medical Advisory Board. Learn more about Lowy and the other
SMAB members
.