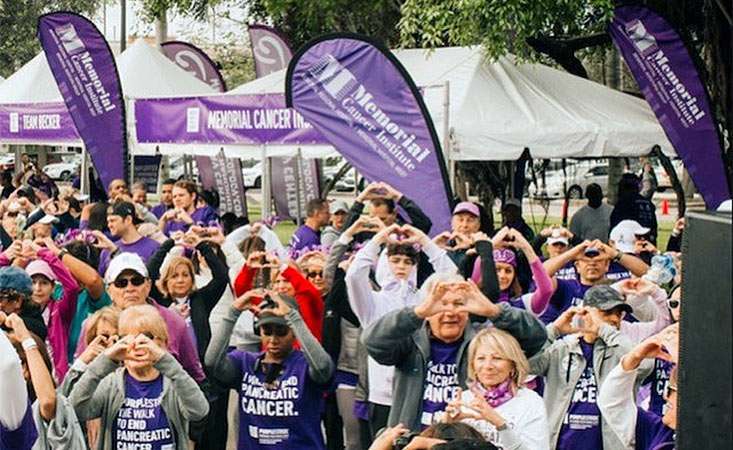 For Memorial Cancer Institute, it started with a patient's son.
Memorial Cancer Institute first sponsored the Pancreatic Cancer Action Network's (PanCAN) PurpleStride Broward-Palm Beach in 2013, thanks to a patient's son who was an active PanCAN volunteer. The next year, and every year since, they have been the Local Presenting Sponsor for PurpleStride.
"Every year, as we prepare for PurpleStride, we know that we will see an army of fighters, whether recently diagnosed, a survivor or families who have lost a loved one," said Christopher Gannon, M.D., Chief of Surgical Oncology for Memorial Cancer Institute. "We know that we are stronger together against this awful disease."
Since 2013, Memorial Cancer Institute has recognized the importance of supporting PurpleStride to let patients, and the entire community know they stand behind them. And equally important to Memorial Cancer Institute are research advances bringing better treatment options, and that those options are available to every pancreatic cancer patient in their community.
For staff attending PurpleStride, the event is a delight from beginning to end. From early morning set-up to the arrival of patients, caregivers and loved ones, they love to see the passionate crowds. The greatest joy is seeing all their local survivors on stage for Opening Ceremonies.
"They give us inspiration to work harder for the ones to come," says Dr. Gannon.
With this year's event a virtual one, their commitment to the community stays strong. Dr. Gannon says it's important to stay safe, but to keep moving forward because cancer does not stop. And Memorial Cancer Institute's message this year to patients, survivors, family and friends is one of courage and inspiration to keep fighting against this disease: register, recruit and fundraise for PurpleStride Broward-Palm Beach! Join Team Memorial Cancer Institute or start your own team and recruit your friends and family.
"PanCAN has created an amazing community for all," said Dr. Gannon. "The resources provided by the organization through PanCAN Patient Services make our work a bit easier with new patients. We are glad to partner with such an amazing organization who always puts patients first."