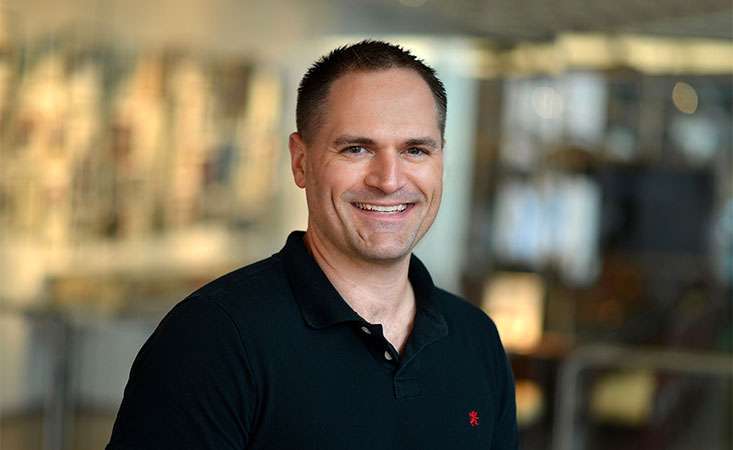 Pancreatic cancer researcher Kenneth Scott, PhD, associate professor of molecular and human genetics at Baylor College of Medicine, passed away on Nov. 9 from metastatic sarcoma. He was 43.
Scott was the recipient of a Career Development Award from the Pancreatic Cancer Action Network (PanCAN) in 2014.
His work focused on identifying and understanding genes responsible for the progression of healthy cells into cancer. Upon his sarcoma diagnosis in June 2015, he and members of his laboratory extensively sequenced the genetic changes in his own tumor.
Despite their efforts and after many rounds of grueling chemotherapy and a major surgical operation, Scott died, surrounded by his wife, Laurel, and their children, Rachel (12) and Nathan (9).
"We are heartbroken by the news of Ken's passing," said Lynn Matrisian, PhD, MBA, chief science officer at PanCAN. "He will be remembered for his research contributions to pancreatic cancer and the cancer field in general, and he has been an incredible inspiration to us following his diagnosis with this aggressive disease."
Fellow grantees shared fond memories of Scott:
"I formally met Ken at the AACR Rally for Medical Research in Washington, D.C.," recalled Jennifer Bailey, PhD. "I am forever grateful to him for reaching out to me in my earliest days as a new principal investigator in Houston. From weekly meetings and late-night editing to a collaborative grant application, I was able to interact with outstanding investigators, many of whom I still work with today."
"I deeply appreciate receiving advice from Kenny on running a new lab and writing grants," said Haoqiang Ying, MD, PhD. "What I most appreciate is his being a friend and sharing his own personal experience of fighting cancer. I've known people with this dreadful disease. But listening to his words and reading his blog articles made me feel for the first time that fighting cancer had become a truly personal journey."
Upon receiving a compilation of notes and well wishes from fellow grantees and members of PanCAN's Scientific and Medical Advisory Board some months back, Scott responded: "I feel so much better knowing that others, those whom I respect so incredibly much, place value on what I accomplished in the few years that I ran my lab. I really did set out to make a difference, driven by the hopes of helping others."
He continued: "Being part of the PanCAN family has been the greatest joy of my research career."
We send our deepest condolences to Dr. Scott's family, friends and colleagues during this difficult time.