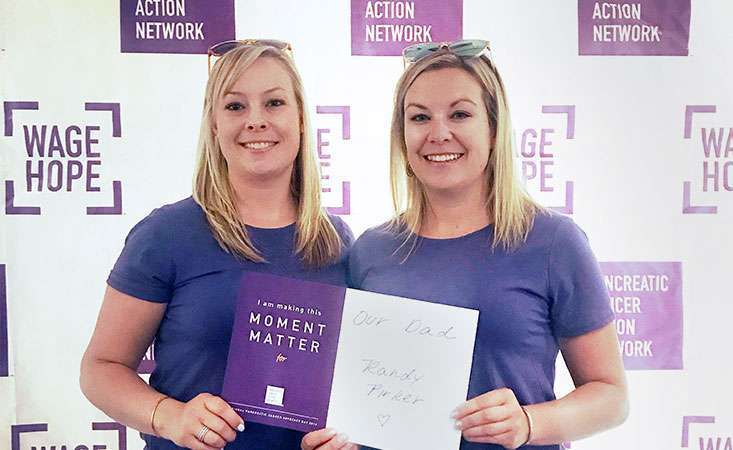 Editor's note: In honor of National Sisters Day on Sunday, August 4, we're sharing the story of Stephanie Castillo and Arikka Pirker, sisters from Montana who lost their father to pancreatic cancer in 2018. 
When Stephanie Castillo and Arikka Pirker arrived at National Pancreatic Cancer Advocacy Day 2019 in Washington D.C., wearing matching purple shirts, it was easy to mistake them as twins.
In reality, the sisters are four years apart, but their bond is just as strong. When their father, Randy, was diagnosed with pancreatic cancer in August 2017 at the age of 57, Castillo and Pirker knew they would take on this fight together.
"Dad had no other health issues. He was an avid hunter and softball coach," Pirker explained. "It wasn't until he had a persistent pain in his stomach that he went to the hospital, and they found the cancer. By that point, it had already spread to his liver."
Although she lived two hours away from her father and sister, Castillo never missed a treatment appointment, which they dubbed their "chemo dates" with dad. While supporting Randy, Pirker and Castillo did their best to bring light to every situation.
"We were the life of the party at his chemotherapy appointments," Pirker joked. "It was important to take the hard times and make them light. We didn't want to just be sad. We did our best to make everyone in the room smile."
When Randy passed away in May 2018, only nine months following his diagnosis, their resolve strengthened even further.
"Losing my dad was the hardest thing I've ever been through," Castillo said. "But he didn't want us to sulk. We promised him that we wouldn't stop fighting and that we would continue to spread awareness."
When the opportunity to be part of the Pancreatic Cancer Action Network's (PanCAN) Advocacy Day arose, there was no question of whether they would attend. This was not only the pair's first Advocacy Day, but it was their first time visiting the nation's capital.
"At first, we were a bit nervous. We were walking into the unknown and weren't sure what to expect," Castillo said.
"But as soon as we started meeting other attendees – hearing their stories and sharing our own – I realized we were here for a reason. These are our people."
Through Advocacy Day, Castillo and Pirker had the opportunity to meet with both of their U.S. senators, as well as their congressional representative in the House. They shared their father's story and educated the officials on the importance of federal research funding for pancreatic cancer.
"Everyone we met with was so receptive to our message." Castillo said. "When we left Capitol Hill, I had such a sense of pride. I felt accomplished. I felt empowered. I knew this is what we were supposed to do."
But their work did not stop there. The sisters have already scheduled dates to meet with congressional aides in their local Montana offices to continue the conversation. They're also planning a softball tournament in 2020 as a Wage Hope My Way fundraiser to raise money in honor of their late father.
There were many moments that mattered to Castillo and Pirker. But a special memory the sisters shared after their father's passing was hiking to his favorite hunting spot and leaving a cross. They also used some of their dad's old clothes to make quilts for their own children, so they can get a "hug" from Papa Randy every night.
Throughout the entire experience, Castillo and Pirker have been by each other's side. The pair even got matching tattoos that read, "better together," and feature a purple heart in memory of Randy.
"We were a good balance for one another," Castillo explained. "We were each other's sounding boards. When she was weak, I was strong and vice versa."
"As terrible as it was, I feel like the experience brought us closer together," Pirker said. "I don't know what I would have done without her."
Inspired by this story? You can make a difference, too.
Get involved
today.