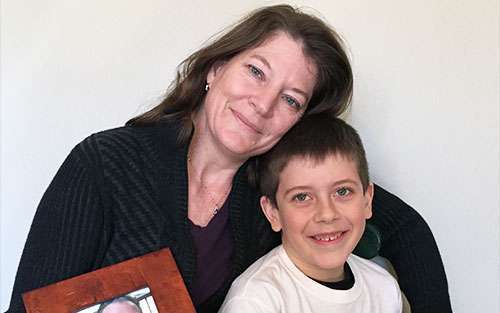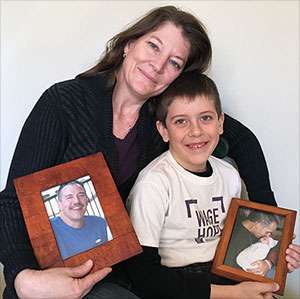 After losing her husband, Paul, to pancreatic cancer, Darcie Bontje longed for a way to honor his memory. Soon after, she found the Pancreatic Cancer Action Network's Sioux Falls Affiliate—a community that has helped her do that, and more.
Darcie's local affiliate has been a place for her to connect with survivors, caregivers and family members of those touched by pancreatic cancer. It's also become a powerful outlet for sharing Paul's inspirational story. Through her volunteering, she has kept her husband's memory alive. He is the reason she strides today and every day, Darcie said.
"PanCAN has been that outlet for me. It also has been a way for me to keep my son connected with his dad. And as an extension of that, it has been a way to show my son that an integral element of being a contributing member of society is to give back by donating our time and our talent to a cause that we find meaningful," said Darcie, who serves as the affiliate's media relations chair. "Service and activism builds self-worth and helps sustain us."
Darcie and her son, Nicholas, fundraise because, as she puts it, "PurpleStride is an uplifting event of hope and health, and the message resonates well with local participants whether or not they have a connection to pancreatic cancer." The two have set a high fundraising goal for their Team Hero, and are well on their way to surpassing it.
Although Sioux Falls, S.D., has hosted a PurpleLight event since 2011, this year marks the inaugural PurpleStride in town. PurpleStride Sioux Falls will turn Cherry Rock Park purple on June 3 to raise funds and awareness for patients battling pancreatic cancer, the third leading cause of cancer death.
"There isn't a day that goes by that Paul is not remembered—for the love he brought to our lives, his humor, his passion for life and his resolve to fight this deadly disease," Darcie said about her hero.
Join Darcie and Nicholas as they Wage Hope at PurpleStride, the walk to end pancreatic cancer. Register or donate today to rewrite the future of the nation's deadliest major cancer.