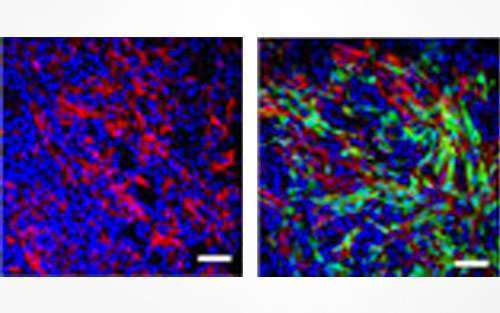 Back when he was a postdoctoral researcher, grantee Kazuki Sugahara, MD, PhD, found that a peptide, or small piece of protein, called iRGD, can selectively penetrate into pancreatic tumors – and not into healthy tissue.
Perhaps more importantly, the research team discovered that other compounds administered along with iRGD get into the tumor, too.
The iRGD peptide therefore shows promise to circumvent one of the biggest challenges to the successful treatment of pancreatic cancer – getting the drug effectively delivered into the tumor. And now Sugahara and colleagues have published a paper that may address one of the other major hurdles to pancreatic cancer patient survival: early detection.
The study came out in the very prestigious Nature Communications journal last week.
"This is a report about using iRGD to deliver nanoparticles deep into tumor tissue," explains Sugahara, adjunct associate research scientist in the department of surgery at Columbia University College of Physicians and Surgeons. "The nanoparticles emit a fluorescent signal that is visible upon imaging to pinpoint the exact location of the tumor and metastatic spread within the abdomen in mice."
The majority of pancreatic cancer cases are diagnosed after the disease has spread locally or to a distant location in the body. Therefore, early detection is a key focus for researchers to improve patients' access to surgery and other potentially effective treatment options.
"Most early detection studies focus on either biomarkers (biological clues to detect the cancer cells) or on improving current imaging modalities," said Lynn Matrisian, PhD, MBA, chief science officer at the Pancreatic Cancer Action Network. "Dr. Sugahara's work elegantly combines a biological approach with sophisticated chemistry and physics to visually detect the tumor. Next steps will involve determining the detection limit to see if early-stage disease is visible. And, of course, the technology will need to be tested in humans."
Sugahara is a two-time PanCAN research grantee, receiving a 2015 Translational Research Grant after a Career Development Award in 2012, generously supported by the Daniel and Janet Mordecai Foundation.
"My first PanCAN grant helped me get a position at Columbia as a surgery resident and a faculty member at the cancer research center," added Sugahara. "The second grant has supported our translational work investigating iRGD to improve drug delivery as well as the current study to some extent. I am deeply thankful for the important funding I received from PanCAN."
Please give today to continue supporting potentially lifesaving scientific and clinical research.