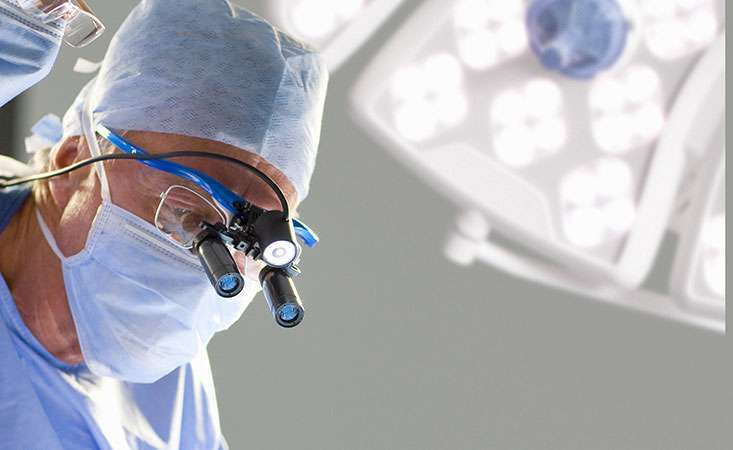 Editor's note: This is the second of three articles leading up to National Doctors' Day on March 30. We are spotlighting different disciplines of doctors who diagnose and treat pancreatic cancer patients – through commentary from members of our expert Scientific and Medical Advisory Board (SMAB). Today we'll focus on surgeons and radiation oncologists, and please see yesterday's post about gastroenterologists and pathologists.
It's important to see high-volume surgeons
About 20 percent of pancreatic cancer patients are candidates for surgery, typically the Whipple procedure. For eligible patients, surgery is the best option for long-term survival. PanCAN strongly recommends you have a high-volume pancreatic surgeon (more than 15 surgeries per year) determine your eligibility and perform the surgery.
Jason Fleming, MD, senior member and chair of the department of gastrointestinal oncology and member, chemical biology and molecular medicine program, at Moffitt Cancer Center, weighed in about the complexity of pancreatic cancer surgeries:
"Surgeons play a special role – we have to balance what's possible, what we hope for and what's reasonable. Being able to accurately read a patient's CT scan to determine what's feasible technically is only part of story – we also have to factor in the patient's goals in order to identify the best total package of care for that individual patient."
He continued, "We've learned that surgery alone is insufficient – surgeons need to work closely with radiation oncologists and medical oncologists to define the best course of action, which should include chemotherapy and/or radiation before and/or after surgery.
"More and more evidence is pushing us toward providing systemic treatments before surgery."
In regard to pursuing surgery with high-volume surgeons at high-volume institutions, Fleming said, "A whole body of data over the past 10 to 15 years have demonstrated that the more pancreatic cancer surgical procedures performed at a hospital, the fewer complications the patients experience. This is fact, not theory. And it's a combination of having a surgeon experienced in the intricate surgical procedure as well as support staff who know what to look for in patients after surgery.
"Experienced surgical clinics are tuned in to the warning signs of complications and know how to address them quickly and effectively."
Radiation oncologists help manage local disease
Pancreatic cancer patients may also have radiation oncologists involved in their care. Radiation oncologists direct the addition of radiation therapy to patients' treatment regimens. Because radiation therapy is delivered to a specific, focused area, it's considered a local treatment (as opposed to systemic, like chemotherapy).
Joseph Herman, MD, MSc, professor of radiation oncology and director of clinical research at MD Anderson Cancer Center, offers his perspective: "Radiation oncologists are an integral part of the multidisciplinary team that cares for patients with non-metastatic pancreatic cancer.
"Radiation treatment should be considered when creating a treatment plan prior to surgical intervention with the goal of preventing further tumor growth, sterilizing surgical margins and reducing the size of the tumor. This is commonly referred to as neoadjuvant radiation therapy."
Herman added, "In some cases, radiation treatment has also been shown to prevent local progression following maximal chemotherapy and assist with the relief of localized pain due to the pancreatic tumor.
"Radiation oncologists work with the medical team to create a thorough and exhaustive treatment plan that is targeted to the particular needs of each patient. We continuously consult with the medical team to make adjustments if and when they are needed based upon the patient's progress throughout the course of treatment. And the field of radiation oncology is constantly evolving and improving!"
Contact PanCAN Patient Services for a list of surgeons near you who perform a high volume of pancreatic cancer surgeries, as well as for names of other specialists, including radiation oncologists, who have significant experience treating pancreatic cancer patients.