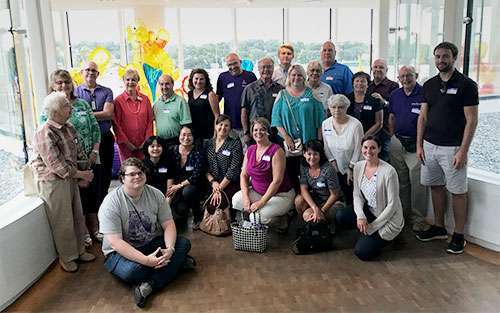 The Fred and Pamela Buffett Cancer Center, a revolutionary cancer care facility in Nebraska, welcomed the PanCAN Omaha Affiliate recently for a special tour with Michael (Tony) Hollingsworth, PhD. Dr. Hollingsworth is Associate Director for Basic Research at the center, as well as the Dr. and Mrs. Tim D. Leon Professor and Director of Pancreatic Cancer Research, Eppley Institute for Research in Cancer at the University of Nebraska Medical Center and a longstanding Scientific & Medical Advisory Board member of PanCAN.
The state-of-the-art institution just opened in June 2017 at Nebraska Medicine, one of the foremost research and treatment centers in the nation. The new center provides an inspiring model for cancer care, research and education.
"The Fred and Pamela Buffett Cancer Center is designed in a way that is conducive to research. The center is quite unique in the world. It represents an opportunity for us to conduct the best patient care coupled with the best in research at the same time," noted Dr. Hollingsworth.
"The 8th floor of this building is the surgical oncology floor, which is where pancreatic cancer patients go frequently. Right around the corner is my lab, and between my lab and the patient rooms are the surgeons. We often have good opportunities to stop and talk with each other, which was the intent of the building design. Basic researchers, like me, can talk to clinicians about the issues that they are facing on a daily basis. If clinicians have a question about something, they can come straight to us, if we have an idea about something, we can go directly talk to them. It's really a free exchange of ideas."
Darcy Heath, Omaha Affiliate Chair, and the rest of the volunteers felt deeply grateful to have such an extraordinary center so close to home that focuses on treating the whole patient.
"When my husband was being treated for pancreatic cancer, it was crucial to our family that more than just his physical health was being treated," confided Heath. "The Buffett Cancer Center is equipped to treat the whole person. They integrate a Healing Arts Program with therapeutic art and music programs for patients, the Chihuly Sanctuary and beautiful art that can be found throughout the building. They also serve good food in their cafeteria, which is important to families as they often spend days and weeks at a time in the hospital with their loved ones."
Heath also pointed out the "one-stop shopping" appeal of the facility. Patients can visit their oncologist, surgeon, radiological oncologist or geneticist all in the same clinic where they get their imaging done. This model can be very helpful to patients and caregivers who no longer need to navigate multiple locations for those services.
During the two-hour visit, Dr. Hollingsworth spoke to the group of 25 volunteers and answered their questions about the latest research, clinical trials and early detection efforts, as well as led them on a tour of the facility including his lab.
"Pancreatic cancer survivors, caregivers and family members oftentimes feel helpless in the face of this devastating disease," acknowledged Heath. "To hear firsthand about the work being done to double the survival rate by 2020, especially from such an influential researcher as Dr. Hollingsworth who is doing the work, is empowering. It makes our volunteer efforts and fundraising even more meaningful when we can see the impact that it's having on patients in our community."
Gain a deeper understanding of what's happening with pancreatic cancer, and lend a hand to improve the outcomes for all patients by joining one of our 58 affiliates near you.